Royal Dutch Shell Group .com
THE WALL STREET JOURNAL: Shell Finance Chief Has Faced Scrutiny Before
By LAURIE P. COHEN and JAMES BANDLER
Staff Reporters of THE WALL STREET JOURNAL
<![if !vml]>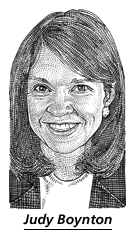 <![endif]>March 26, 2004; Page C1
For most of the past six years, Judith Boynton has served as chief financial officer of two well-known companies, each steeped in misfortune. At both stops, she has generated controversy.
A three-year stint at Polaroid Corp. ended in 2001 amid internal criticism of her efforts, roughly eight months before the camera maker filed for bankruptcy-court protection.
In mid-2001, Ms. Boynton joined Royal Dutch/Shell Group as its finance director and chief financial officer, a post she still holds. Shell is engulfed in scandal -- and what Ms. Boynton knew, and when she knew it, is an issue as U.S. and European regulators investigate the circumstances surrounding Shell's January disclosure that it had substantially overbooked reserves, an important gauge for investors of an oil company's performance and value. Earlier this month, Shell fired two top executives amid the disclosures.
Shell executives knew as far back as February 2002 that the company could have overstated its reserves of oil and natural gas. Ms. Boynton received a memo in 2002 from Shell's exploration chief detailing shortfalls in proven reserves, according to a person who saw the memo. Ms. Boynton's lawyer, Samuel Winer, says he can't comment on pending investigations. (The majority of the questionable reserve bookings occurred before she got there.)
The July 2002 memo didn't explicitly say "there is a terrible problem and reserves must be de-booked," a person close to Ms. Boynton says. The person says Ms. Boynton relied on the assurances of other Shell employees. Shell's independent directors have concluded that Ms. Boynton and Jeroen van der Veer, Shell's current chairman, didn't know the full extent of problems with the oil giant's energy-reserve accounting, a person familiar with the matter says. Yet it is too early to declare any Shell executive blameless, according to a U.S. government official involved in the investigation.
In her tenure, Ms. Boynton, 49 years old, hasn't won many fans among Shell's institutional investors or analysts who cover the oil company. In one investor meeting in January 2002, she appeared not to know the difference between such common oil-patch terms as LPG (liquefied petroleum gas) and LNG (liquefied natural gas), according to an investor who was there. At interviews with analysts and investors early in her tenure, she frequently deferred to a Shell investor-relations specialist, though she now answers her own questions. Her supporters say she is knowledgeable about the oil business. Ms. Boynton's lawyer said she would be unavailable to comment.
The questions surrounding Ms. Boynton at Shell underscore the increased scrutiny of chief financial officers these days. As finance chief, she certified that Shell's 2002 annual financial report, filed with regulators in March 2003, didn't "contain any untrue statement of a material fact or omit to state a material fact" based on her knowledge. This certification was required by the Sarbanes-Oxley Act, passed in 2002, which imposes additional burdens on executives to ensure that financial results are accurate. Evidence that an executive knowingly deceived investors can expose that signatory to as many as 10 years in prison and a $1 million fine.
At large companies, however, it is typical that "chief financial officers will rely on the controller and business managers to submit numbers" without checking each of them, says Jim Walden, a partner at the law firm O'Melveny & Myers in New York who specializes in issues related to the 2002 act. "Viewed cynically, this gives CFOs plausible deniability."
Since the passage of Sarbanes-Oxley, the Securities and Exchange Commission has charged four corporate executives with violating the act's certification requirements. In the most high-profile case, the SEC alleged in a civil action that former HealthSouth Corp. Chief Executive Richard Scrushy certified financial statements that he knew or should have known were false. Mr. Scrushy has denied the charges.
When it comes to Polaroid and Shell, Ms. Boynton simply could have been at the wrong places at wrong times. The problems at Polaroid, which included a heavy debt load and a dying core business that was being replaced by digital photography, predated her stay there. "She's very smart and she works hard," says Peter Crist, a executive recruiter in Chicago who says he believes Polaroid was an anomaly in Ms. Boynton's 26-year finance career. Companies other than Shell sought to hire her after Polaroid, Mr. Crist says.
Ms. Boynton joined Amoco Corp. after graduating from the University of Chicago's Graduate School of Business in 1978. She served in a variety of finance positions, culminating as vice president and controller before she left to join Polaroid in 1998.
Ms. Boynton's critics at Polaroid say they see parallels between her tenure at both companies. At Polaroid, these critics say, Ms. Boynton was more focused on pleasing her bosses than getting them to confront serious problems. They fault her for overly optimistic financial projections and for not having a better grasp on the details of Polaroid's business.
"There were more background conversations in that company about Judy and Judy's inability to handle the job than almost anything else that was being talked about," said Harvey Greenberg, the former head of human resources at Polaroid.
William O'Neill Jr., Ms. Boynton's predecessor as finance chief at Polaroid and now dean of the Sawyer School of Management at Suffolk University in Boston, says Ms. Boynton shared responsibility for Polaroid's bankruptcy. "I give her a third of the blame, the CEO a third and the board a third," he says.
Shell officials weren't available to comment.