Royal Dutch Shell Group .com
A FOCUS ON SHELL'S UNETHICAL & RUTHLESS TREATMENT OF ITS MALAYSIAN EMPLOYEES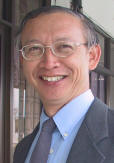 Dr. John Huong - Former Shell Geologist of almost 30 years standing
(Photograph Courtesy of The Borneo Post)
Groups of former Shell employees in Malaysia have found it necessary to sue the Shell Sarawak and Sabah Retirement Benefit Fund in relation to the misappropriation of pension funds. The purpose of the funds was supposedly to provide adequate financial provision for the relevant employees on their retirement and a measure of financial security for their dependents. Last September, a Judge in the High Court of Miri ruled in favour of one such group of 399 former Shell employees: he decided that deductions made by Shell from the pension fund were "UNLAWFUL".

The following are quotes from a related article in the "New Straits Times" under the headline: "Ageing and sickly, ex-Shell staff wait on court": - "Some have died. Others are losing their memory and many are ailing.": "399 former employees of Sarawak Shell Bhd and Sabah Shell Petroleum Co Ltd engaged in a protracted legal battle with their ex-employers…" "claiming that they unlawfully deducted money from their internal retirement funds…": "They won their case at the Miri High Court on Sept 20 but their employers filed an appeal.": "For now, all they can do is hope their time doesn't run out." The appeal is scheduled for October. This means more delay, suffering and uncertainty for elderly former loyal Shell employees: ruthless tactics indeed. (A link to the relevant article is accessible at the foot of this page)

It is notable that pension funds of Shell employees in the USA have just been awarded $90 million (US dollars) in an out-of-court settlement agreed by Shell. As is evident from the above article, this is a strikingly different outcome compared with the court actions brought by various Shell employee groups in Malaysia, including the group of 399, which Shell is dragging out for highly questionable reasons. In another case, 58 ex-Shell employees had sued Shell in the High Court seeking reinstatement after they were made redundant under the pretext of "Organisational Review". Nine long years have apparently elapsed and the case is still unresolved. Why is Shell taking such a ruthless approach towards its Malaysian employees compared with their American counter-parts? Why are they being treated with such blatant contempt?
Shell has wasted BILLIONS in fines and settlements for management misdeeds. I refer to the reserves scandal (Shell rewarded the disgraced Sir Philip Watts with a $18 million pension pot for destroying Shell's reputation as a result of senior management lies and cover-up) and the huge cost overruns due to Shell management incompetence on the *Sakhalin-2 project in Russia. Contrast this with Shell deliberately and cold-heartedly withholding pension payments which honest, hard-working former employees were counting on for their retirement. This is absolutely inexcusable behaviour which can only be described as wicked.
After throwing loyal employees on the scrap heap and cheating them out of their retirement funds, Shell management in Malaysia has had the audacity to advertise for new staff. A recent advert in the Sarawak Tribune for "Walk-in Interviews" claims that "Shell is an Equal Opportunity Employer". The unfortunate individuals who have given decades of loyal service to Shell before being made redundant may take issue with that claim. Is it not a little unsightly in any event to conduct interviews for new people, when redundancy/pension fund litigation in respect of employees made redundant on spurious grounds is still in progress? It is analogous to an adulterous husband in the process of divorcing his wife, wooing innocent new victims to be used and then in turn dumped at a later date, for more younger, innocent replacements. What happened to loyalty? Doesn't Shell realise that it is acquiring a reputation for treating its employees/stakeholders disgracefully in non-Western Countries?
Other litigation is also in progress including the remarkable case of Dr John Huong, a former Shell geologist of almost 30 years standing. Dr Huong, a deeply religious Malaysian humanitarian and a man who appears to be of the highest integrity, is suing Shell for wrongful dismissal. An interim hearing took place in the High Court of Miri on 14-15 June 2005: the case has been adjourned for further hearings which will take place from 14-18 November 2005.

Because Dr Huong has a social conscience and believes Shell management should abide by Shell's Statement of General Business Principles - pledging honesty, integrity and openness in all of Shell's dealings, he felt compelled to raise health and safety issues internally in respect of the duties assigned to him. This turned out to be a turning point in his long and previously enjoyable career with Shell. Raising such concerns brought him nothing but grief. Basically Shell management's attitude towards him changed overnight. After he was humiliated and dismissed, Dr John Huong chose this website as the intended public platform for his revelations about Shell management's blatant disregard for the safety of Shell employees.
Just after he had primed his ShellNews.net audience on the revelations he intended to make, EIGHT companies within the Royal Dutch Shell Group took the draconian step of obtaining a Malaysian High Court Injunction against him and bringing High Court proceedings alleging libel.
Click here to visit the former WEB PAGES OF SHELL GEOLOGIST/INSIDER, DR JOHN HUONG on which his legal disclaimer is posted
The case is pending while an appeal by Dr Huong in respect of legal jurisdiction is awaited. The appeal could apparently take up to five years leaving a dark cloud over Dr Huong who has already suffered great stress from Shell's disgraceful tactics. As will become apparent, Shell's action against Dr Huong and his case against Shell are inextricably linked.

In 1997, Dr Huong was the Shell Production Geologist for the multi-billion dollar Kinabalu Field project. He made the mistake of raising issues relating to faulty design (premature piling of conductors which stopped short in the middle of soft sediments). The drilling of the first production well resulted in fluidisation of sediments below some twenty pre-piled conductors. This was subsequently addressed by costly cementation works. However, the unexpected difficulties rendered the platform unsafe at the material time and we do not know what the long term consequences will be.

Dr Huong also registered his official written objection in his staff appraisal (lodged with his superior) concerning his deep moral reservations about providing information which would mislead shareholders over the reserves volume. This was in relation to the computer reservoir engineering model for the Kinabalu Field. One document contained the following question which Dr Huong raised with his manager in relation to the Kinabalu field: "Do you want to tell your investors that the volume carried in the ARPR (Annual Review on Petroleum Reserves) is suspected because a change in reservoir work will be expected! How can we live a day with a free conscience by getting the money from our investors through the 502F when our depositional model work is in question?" ShellNews.net has a copy of the relevant Shell internal document. The warning was apparently ignored. It was this type of behaviour on the part of Shell management which brought about the reserves scandal that has resulted in the untimely demise of the Shell Transport and Trading Company plc.
(related article: http://shell2004.com/week29/newark_starledgershellallegedfraud%20case24july2005.htm)
The wells in the Kinabalu field were unfortunately simulated in parts outside the fault closure (e.g. hydrocarbon bearing reservoirs). Dr. Huong had also questioned the drive mechanisms of the field and the pre-drilled liner used in the long extended reach of those horizontal production wells. Such misinformation caused a scandal at the time resulting in an internal investigation initiated by the then Managing Director, Datuk Lim Haw Kuang. Blame was apportioned to various parties. Many involved were relocated to other assignments. One, Mr Campbell Keir, was promoted and reassigned to Thailand. He is currently managing Shell Syrian operations. In the article below, Mr Keir mimics past assurances from Shell senior management figures, such as Sir Mark Moody-Stuart, about Shell's policy towards promoting ethnic, cultural and ethical diversity, including adapting to local culture:-
http://www.arabicnews.com/ansub/Daily/Day/050521/2005052124.html
Try telling that to the local populations, including Shell employees, subjected to the most callous treatment by Shell in Nigeria, Texas, Pakistan (see current postings on "TellShell"), Nicaragua, Ireland etc. Try telling that to Shell Malaysian employees who are being treated entirely differently to Shell's American employees. Try telling that to Dr. Huong who has been censored, humiliated, punished, and made obsolete, for protecting national, shareholder, and internal stakeholder (employee) interests. It is plain that Shell acts differently towards its employees in Western Countries, compared with employees in some other Countries, such as Malaysia, who are treated with ingratitude and contempt even after years of loyal service.

This brings us to recent news reflecting on Shell's blatant disregard for the health and safety of its Malaysian employees.
The recent Shell helicopter crash in the sea off Sarawak thankfully did not result in any fatalities. Shell Malaysia Chairman, Jon Chadwick, circulated an email on 22 June 2005 trying to restore confidence in Shell helicopter safety systems by promising that he would personally be "flying off-shore within days". He did not mention whether this would actually be in a helicopter used to ferry Malaysian Shell employees back and forth to work. He claimed in his email that for Shell "Safety is Our Number One Priority". The facts say otherwise.

In early July 2002, not long before Dr Huong was dismissed, he made a mistake in his capacity as a Shell Asset Integrity Engineer of raising the issue of Shell Helicopter safety. This was after he had concluded that various incidents concerned with flight safety - red warning lights flickering during flight, and a series of unstable or aborted flights, violent vibration etc was causing considerable stress to the workforce. Within a matter of days news broke of a helicopter crash into the North Sea in which several Shell employees tragically lost their lives. Although a different type of helicopter was involved, the sad news added urgency to Dr Huong's concerns about Shell helicopter safety in Sarawak.

In keeping with his duties, Dr Huong gathered documentary evidence which revealed that passengers were ordered to board flights after repairs had just been carried out, without being informed that they were in effect "test crews". A Shell employee stated in an email: "I am not familiar with aviation procedure for testing aircraft after repair. However, I believed there should be more thorough & stringent test done before accepting the passengers."

On 18 July 2002, Dr Huong sent an email to his boss, Hee Len Hi, under the subject of "Helicopter Services". He stated: "For your info, Something important to know before someone get badly injured. Are we cost cutting too much at the expense of lives? All correspondence related to this subject are attached." Instead of being alarmed, Mr Hee Len Hi took exception to Dr Huong bringing the matter to his attention. The resulting animosity was according to Dr Huong, a factor in his subsequent wrongful dismissal on 28 May 2003.

On 7 July 2003, Dr Huong sent an email to Sir Phillip Watts (the then Group Chairman of Royal Dutch/Shell) and Dominique Gardy, a director of Shell E & P. He also copied it to Jon Chadwick. The subject: "Train of Events Leading to Termination". This contained a disclosure about his concerns over helicopter safety. The email was ignored. Shell would not apparently take any notice of his legitimate concerns about helicopter safety which fell within his responsibilities and used draconian legal measures to silence him after he was wrongfully dismissed. The helicopter safety cover-up has haunted Dr Huong ever since.

The concerns expressed by Dr Huong (and other Shell staff in *internal emails) have been completely vindicated by the helicopter crash which has unfortunately occurred. The Shell Shareholders Organization trusts that Shell management in Malaysia will not withhold the relevant email correspondence and related incident reports from the Department of Aviation and/or Department of Safety & Health investigation. It is important, highly material evidence. Given all that has occurred, Datuk Jon Chadwick should surely resign after he has resolved all the outstanding litigation concerning Shell Malaysian employees. He should not leave a legacy of such evil and oppressive actions against hundreds of loyal, hard working and innocent Shell employees to his successors.
Just last week Sarawak Shell Bhd held a Health, Safety, Security & Environment (HSSE) week to motivate staff on the need for better HSSE records after two employees, in separate Shell operations, had tragically died over the last few months. A few days ago (on Thursday 14 July) we broke the news of the death of a (third) Shell employee/contractor, this time on an offshore platform in Sarawak waters. This death took place during an emergency drill exercise. The latest tragedy reinforces the concerns expressed by Dr Huong in relation to health and safety issues involving Shell. Can Jon Chadwick explain why an employee/contractor with a good medical record, as is apparently shown in his HSSE passport (valid for working off-shore) can suddenly collapse and die during an emergency drill? The relevant news report is accessible on this link: Read the article

Dr Huong must be puzzled why Shell has chosen to sue him, a Malaysian national for libel, but not Alfred Donovan, the British joint owner/operator of the ShellNews.net website (the author of this article) on which the well-founded whistle-blower comments were published. In fact the Royal Dutch Shell Group has recently made the following extraordinary statement in a legal document in regards to this website: -
"The... Group... have been aware of the site since the beginning and whilst they would not endorse or agree with many of the comments made by the Respondent on the website, they have taken the view that the Respondent is entitled to express his opinions and to use the Internet as a medium for doing so."
Alfred Donovan is the "Respondent" in proceedings in respect of the domain name www.royaldutchshellplc.com
Apparently this entitlement does not extent to a Malaysian national. Bearing in mind the above comments about how Shell seems to treat staff in Western nations differently to its employees in Countries such as Malaysia, some people may wonder whether there is an element of racism involved?
With regards to the basis of the libel action against Dr Huong, it is difficult to imagine how it would be possible to libel Shell given that its reputation has already been destroyed by the reserves scandal. As is stated in the prologue of the recently published book about the reserves scandal – "Shell Shock": "… it will be many years – decades, perhaps – before Shell's wrecked reputation can be restored." (page 27: "LIES, DAMNED LIES AND RESERVES").
SHELL'S STATEMENT OF GENERAL BUSINESS PRINCIPLES
The Shell Shareholder organisation strongly urges Shell's Board of Management to confer legal status for its Statement of General Business Principles (SGBP), so that if Shell management breaches the terms of its code of business ethics, affected parties will have legal redress. At the moment, Shell's much proclaimed principles are like a bet placed with a bookmaker, binding in honour only. They amount to nothing more than a confidence tricksters charter. If Shell made them legally binding, then Shell stakeholders, especially in third world countries like Nigeria, Nicaragua, Malaysia, and even communities in more affluent countries such as Ireland, would be less likely to be bullied and victimised. Can Jeroen van de Veer and Malcolm Brinded in the new unified Shell organisation respond to this plea, which would be a major step forward in the long term mission of restoring Shell's once proud reputation!
*THE SAKHALIN-2 DEBACLE
Finally, can I ask Sir Mark Moody-Stuart (the Shell Chairman responsible for the "Transformation" process which created the conditions for the reserves scandal) and his protégé, Datuk Lim Haw Kuang, what their respective roles and accountabilities were in relation to the mysterious Sakhalin 2 project in Russia. This project is currently making news headlines around the globe due to a huge capital expenditure overrun of $10 BILLION US DOLLARS - see ShellNews.net report: THE SHELL SAKHALIN-2 DEBACLE: Read the article
MORE LINKS
New Straits Times: Ageing and sickly, ex-Shell staff wait on court: "Some have died. Others are losing their memory and many are ailing.": "399 former employees of Sarawak Shell Bhd and Sabah Shell Petroleum Co Ltd engaged in a protracted legal battle with their ex-employers…" "claiming that they unlawfully deducted money from their internal retirement funds…": "They won their case at the Miri High Court on Sept 20 but their employers filed an appeal.": "For now, all they can do is hope their time doesn't run out."
Sarawak News: 399 Ex-Employees Of Shell Win Suit For Refund Estimated At RM100 Million: "The Miri High Court has ordered Sarawak Shell Bhd (SSB), Sabah Shell Petroleum Co Ltd (SSPC), the Trustees of Shell Sarawak and Sabah Retirement Fund (SSSRBF) and Shell Sarawak and Sabah Provident Fund (SSSPF), to pay nearly RM100 million to 399 former employees" (Sabah Shell Petroleum Co Ltd is a UK company)
ShellNews.net: Nearly 400 former Shell staff still wait on Malaysian Appeal Court hearing after winning their High Court Case claim against Shell: "Counsel for the plaintiffs, Datuk Dr Cyrus Das, brought to the courts attention the fact that the majority of the plaintiffs are well over the age of 60 and in weak and declining health. Posted 26 May 05
Daily Mail (UK): Shell pays staff £51m in row over reserves: "Staff at Shell Oil in the US who contributed to a company savings plan -similar to a pension fund -filed the class action suit with the District Court in New Jersey in July last year. They claimed former and existing Shell directors and officers breached their fiduciary duties to the employees.": Posted Sunday 17 July 2005: Read the article
THE BORNEO POST: Former employee suing Shell: "Dr John Huong, an ex-Shell employee, is suing Shell in the Industrial Court here, alleging that he had been unfairly dismissed by the company." Posted 22 June 2005: Read the article
The Borneo Post: Shell vs Dr John Huong trial adjourned to Nov 15: "Dr Huong, an ex-Shell employee, is suing the company, alleging that he was unfairly dismissed.": "Huong, a geologist by qualification, had worked with Shell for almost 30 years before his dismissal on March 28, 2003." Posted 23 June 2005: Read the article
THE NEWARK STAR-LEDGER: Hearing in Newark could determine fate of Shell lawsuit: "…securities fraud case against the world's third-largest oil company. The hearing before U.S. District Chief Judge John Bissell gets to the heart of the case against Royal Dutch/Shell Group.": "It isn't clear how many people were affected by the alleged fraud. But the case is regarded as one of the most significant securities fraud actions because of the size of the company and the length of the class period, which is roughly five years. It is being closely watched by regulators and lawyers around the world.": Posted Sunday 24 July 2005: Read the article
ShellNews.net: Newark Star-Ledger report on the multi-billion dollar US Class Action reserves scandal lawsuit against Royal Dutch/Shell and named former and current directors, including Royal Dutch Shell CEO Jeroen van der Veer and Shell E & P Executive Director, Malcolm Brinded: 1.40am: Sunday 24 July 2005:
Read the article
END OF ARTICLE
ShellNews.net has many sources in Malaysia and many Shell Malaysia internal emails. It is also in the possession of whistle-blower information left in our safekeeping by Dr Huong before Shell commenced its litigation against him. We are authorised to use that information at our sole discretion. We understand that the various information has also been deposited around the world in other equally trustworthy hands. Dr Huong took this precaution after becoming concerned about possible Shell undercover activity including problems encountered with the security of his emails.
This article was authored by Alfred Donovan, Chairman, Shell Shareholders Organization: 847a Second Avenue, New York, NY, 10017 USA. Email: alfred@shellnews.net Published Saturday 16 July 2005. Last Updated Sunday 14 August 2005.
LEGAL STUFF (NO NEED TO READ UNLESS YOU ARE A SHELL LAWYER, OR SOMEONE WITH A DEEP INTEREST IN SHELL, OR FREEDOM OF EXPRESSION OR COPYRIGHT ISSUES)
LEGAL STATEMENT BY THE ROYAL DUTCH SHELL GROUP REGARDING THIS WEBSITE: I, Alfred Donovan, would like to remind Shell lawyers that the "group" has placed on record its acknowledgement of my freedom to air my opinions about Shell on ShellNews.net. I did of course already have rights under various freedom of expression conventions and declarations but its nice to know that Shell, one of the multinational rulers of our planet, recognises this fact. The Royal Dutch Shell Group made the following unusual statement in a legal document in regards to this website: - "The... Group... have been aware of the site since the beginning and whilst they would not endorse or agree with many of the comments made by the Respondent on the website, they have taken the view that the Respondent is entitled to express his opinions and to use the Internet as a medium for doing so." This statement drafted by Shell lawyers and authorised by the "Group", amounts to tacit approval/acceptance/recognition of this website by Shell. It was submitted to The World Intellectual Property Organisation in May 2005 by Shell International Petroleum Company Limited on behalf of the Royal Dutch Shell Group in proceedings against me, Alfred Donovan, as the "Respondent" (owner) of three domain names, including www.royaldutchshellplc.com. It remains a mystery why Shell has taken an entirely different view regarding the fundamental human right to freedom of expression in respect of the former Shell geologist Dr John Huong, the well-known Shell whistle-blower, in relation to postings under his name elsewhere on this same website. Eight companies within the Royal Dutch Shell Group collectively obtained a High Court Injunction to silence him. The Injunction remains in force.
Fair Use Notice: This site contains copyrighted material the use of which has not always been specifically authorized by the copyright owner. We are making such material available in our efforts to advance understanding of environmental, political, human rights, economic, democracy, scientific, and social justice issues, etc. We believe this constitutes a 'fair use' of any such copyrighted material as provided for in section 107 of the US Copyright Law. In accordance with Title 17 U.S.C. Section 107, the material on this site is distributed without profit to those who have expressed a prior interest in receiving the included information for research and educational purposes. For more information go to: http://www.law.cornell.edu/uscode/17/107.shtml.If you wish to use copyrighted material from this site for purposes of your own that go beyond 'fair use', you must obtain permission from the copyright owner. Site Ownership: Shell 2004.com (also known as ShellNews.net) IS OWNED AND OPERATED BY THE SHELL SHAREHOLDERS ORGANISATION: CHAIRMAN ALFRED E DONOVAN, 847a Second Avenue, New York City, NY 10017, USA. The statements expressed here, and any opinions, are those of the writers alone, and neither are opinions of nor reflect the views of Shell2004.com. Content created by the writers is the sole responsibility of the writers and its accuracy and completeness are not endorsed or guaranteed. This goes for all links, too: Shell2004.com has no control over the information you access via such links, does not endorse that information, cannot guarantee the accuracy of the information provided or any analysis based thereon, and shall not be responsible for it or for the consequences of your use of that information.
© 2004/5 Shell2004.com All rights reserved.
Click Here to return to HOME PAGE