Sunday Telegraph: Fuel prices fall as protest jams motorway: Sunday 18 September 2005

By David Derbyshire, Consumer Affairs Editor
(Filed: 17/09/2005)
The cost of petrol tumbled yesterday as more retailers joined in the post-Hurricane Katrina price war.
Throughout the day Shell, Esso, Sainsbury's and Morrisons said they would be following the lead set by Asda and Tesco and cutting prices by up to 4p a litre.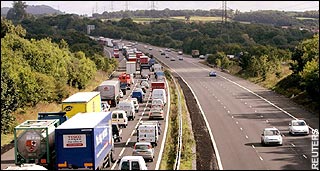 Despite the price war, fuel tax protesters went ahead with their go-slow on the M4 and caused major jams
By last night more than 1,000 filling stations across the country were advertising the lower prices.
Although prices have not yet reached pre-hurricane levels, further reductions are expected in the next few days.
Despite the price war, fuel tax protesters went ahead with their go-slow on the M4 and caused major jams during the morning and evening rush hours.
Motorists who joined the jittery queues for petrol during the first half of the week paid for the most expensive petrol in British history. By waiting until the weekend, less anxious drivers will have saved at least £2 for a tankful.
Asda started the price war on Thursday night by cutting a litre of unleaded by up to 4p at its 158 forecourts. Tesco immediately followed suit at 380 stations.
Then Esso announced a 4p cut at 400 service stations and Sainsbury's, Morrisons and Shell said that they too would be cutting prices. BP said it was "reviewing prices" and said it would be making cuts by Monday evening. Even before the price war, the price of unleaded had already fallen slightly. The analysts Catalist said that on Thursday the average price was 95.9p, down from a peak of 96.1p during the week.
Ray Holloway, of the Petrol Retailers' Association, said that small independent filling stations would be the victims of the price war.
"They are the first to lose out when prices go up, as they need to put more money into their business," he said. "Once prices fall, they lose out again as they have expensive stocks of fuel which they need to make a margin on.
"People should look around at the number of petrol stations closing down. We think hundreds more will close this year. Do customers think supermarkets will still offer low prices when there is no competition?"
Motoring organisations believe that the panic buying inflated prices artificially. Although there is no evidence of widespread profiteering, many petrol stations had to call for emergency deliveries and passed on the extra costs to customers.
Ruth Bridger, of the AA Motoring Trust, said the 4p cut was welcome, but said that drivers were still spending £7.5 million extra each day on petrol compared with January. "Four pence off a litre is very welcome news but drivers are still dismayed by what they are paying at the pump," she said.
The panic buying was triggered by the threat of fuel protests. However, the threatened blockades of refineries failed to materialise this week and supplies were unaffected.
Police in south Wales limited the disruption caused by the M4 go-slow organised by Mike Greene, of the Welsh Hauliers and Public Less Tax on Fuel Campaign.
Protesters had planned to travel at 20mph along the motorway from Cross Hands, near Llanelli, to Newport in the morning then back again for the evening rush hour.
Before the convoy of lorries, coaches and taxis moved off, every driver was served with a notice under Section 12 of the Public Order Act 1986 which set out a 10-point list of conditions that all protesters must follow.
Protesters were also told that they had to keep to the inside lane, to drive at a minimum of 40mph and were advised that cameras would be collecting evidence.
At first the protesters followed the conditions but speeds quickly dropped. At a bottleneck near Port Talbot police ordered the convoy to speed up.