Royal Dutch Shell Group .com
ShellNews.net: Is Royal Dutch Shell Plc adopting racist policies against its Malaysian employees?: Thursday 22 September 2005 00.10 am EDT NY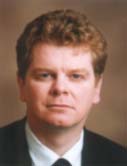 Datuk Jon Chadwick
Chairman of Shell Malaysia
By Alfred Donovan
ShellNews.net has obtained a leaked copy of a recent email from Shell Malaysia Country Chairman, Datuk Jon Chadwick to all Shell employees in Malaysia, which responds to points raised exclusively on this website. A number of our articles have focused on the strikingly different approach adopted by Shell in response to employee class action lawsuits brought by its USA staff, as opposed to its utterly ruthless treatment dished out to Shell Malaysian employees.
According to the email, Shell's appeal against a stunning 70 page Malaysian Court judgement that Shell acted "unlawfully" in misappropriating funds from employee pension funds, is scheduled for 17 to 19 October. The Plaintiffs action for enforcement of the relevant Judgement is scheduled for 16th November. The latest panic move by Chadwick in trying to reassure Shell Malaysian staff proves that he rightly pays extremely close attention to articles published on ShellNews.net.
Chadwick claims in his email that the Shell USA employee litigation is different to the case brought by Shell's Malaysian employees. The biggest difference is that the American case had not gone to trial and consequently there had been no decision reached by a trail Judge, whereas the case brought by 399 former Shell Malaysia employees had already been heard and decided on the unambiguous basis indicated above: namely that Shell acted "unlawfully". This major distinction suggests that Shell should have given priority to concluding the clear cut Malaysian litigation rather than deliberately dragging it out as they have done while falling over backwards to keep its USA employees happy.
We are currently studying the content of a further interesting document which has fallen into our hands. It relates to the above class action lawsuit and discusses terms being negotiated by Shell which once again reflects badly on Shell's claimed respect for its former employees and its idea of what constitutes fairness. Further information about this confidential document will be added to this article shortly.
Jon Chadwick may therefore also be interested in the content of the letter reprinted below faxed to the CEO of PETRONAS, the highly respected Malaysian national oil company that has a business relationship with Shell (which it may wish to reconsider in the light of the information provided): -
21 September 2005
YBhg Tan Sri Dato Mohd Hassan Marican
President and CEO of PETRONAS, Malaysia.
Petroliam Nasional Berhad (PETRONAS)
Tower 1, PETRONAS Twin Towers
Kuala Lumpur City Centre
50088 Kuala Lumpur
Malaysia
Telefax: 00 603 20265050 or 20265055 (8 Pages by Fax Only)
YBhg Tan Sri,
I am writing to bring to your attention an extraordinary letter (attached) which is currently published on our website, ShellNews.net. The letter contains an allegation that Royal Dutch Shell deliberately withheld important information from PETRONAS in relation to the Kinabalu oil field.
The information stems from disclosures by a Shell whistleblower, Dr John Huong, a man of principle and conscience who worked for Shell for almost 30 years. Information about Shell's disgraceful treatment of Dr Huong and how it relates to PETRONAS and the reserves scandal is revealed in the letter (attached) which Dr Huong left in our safe-keeping. We understand that Dr Huong will make further revelations at a time of his choosing.
In an effort to silence Dr Huong, eight companies within the Royal Dutch Shell Group collectively obtained a High Court Restraining Order and Injunction against him. Shell's actions are in blatant breach of Dr Huong's fundamental right to freedom of expression under the United Nations Declaration of Universal Human Rights. Dr Huong is in turn suing Shell for wrongful dismissal.
The relevant Royal Dutch Shell companies have threatened to have Dr Huong imprisoned. Imprisonment seems to be a sanction of choice for Shell. It currently has five landowners imprisoned in Ireland for standing up for their principles in respect of the Corrib pipeline project.
Shell is also ruthlessly dragging out class action litigation brought against it by groups of its former employees in Malaysia. A Judge has already ruled in favor of one group of 399 on the basis that Shell acted "unlawfully" in misappropriating money from their pension funds. As you may have read in the Malaysian press, Shell has appealed the decision even though the claimants are elderly, many of whom are ill and some have already passed away.
It is notable that a class action lawsuit brought by Shell's American employees also in relation to retirement funds was quickly settled while the Malaysian cases have taken years because of Shell's disgraceful stalling tactics.
A further indication of possible racist policies by Shell management in Malaysia is that whereas Shell has taken draconian legal measures against the Malaysian national, Dr Huong, Royal Dutch Shell has stated in a legal document its recognition of my rights to freedom of speech, including the right to criticise Shell on my website, ShellNews.net (which contains over 6,000 pages of news, articles, reports, leaked documents and revelations about Shell). I am a British national and a long term Shell shareholder.
It appears that as far as Shell is concerned, Shell stakeholders in western nations are entitled to free speech on the internet and respectful, non-discriminatory treatment if they bring law suits against Shell, while Malaysians for some inexplicable reason are not. Consequently, it is difficult to avoid the disagreeable conclusion that people are treated differently by Shell dependent on their nationality/race.
In the case of Dr Huong, he was dismissed, lost his rights to freedom of expression and has been placed in a position where it is almost impossible for him to obtain a job as a geologist - all because he spoke out in the national interest of his beloved homeland. Victimisation by Shell has been his reward for being a man of courage and principle.
The Country Chairman of Shell in Malaysia, Datuk Jon Chadwick, is responsible for the policies followed by Shell in Malaysia. On 30 August 2005, I invited him via ShellNews.net to deal with the above matters, including the question mark over racist policies towards Malaysian nationals. This provided him with an opportunity to refute any such suggestion. There has been no response.
Yours sincerely
Alfred Donovan
ShellNews.net
END OF LETTER
What must be abundantly clear by now is that as far as Shell is concerned not all HUMAN beings are necessarily created equal. They do seem to be treated differently by this multinational dependent on nationality/race. There is no other obvious explanation for the above inexplicable anomalies involving cruel and INHUMAN treatment which makes a mockery of HUMAN RIGHTS.
Related links:
New Straits Times: Ageing and sickly, ex-Shell staff wait on court: "Some have died. Others are losing their memory and many are ailing.": "399 former employees of Sarawak Shell Bhd and Sabah Shell Petroleum Co Ltd engaged in a protracted legal battle with their ex-employers…" "claiming that they unlawfully deducted money from their internal retirement funds…": "They won their case at the Miri High Court on Sept 20 but their employers filed an appeal.": "For now, all they can do is hope their time doesn't run out."
Sarawak News: 399 Ex-Employees Of Shell Win Suit For Refund Estimated At RM100 Million: "The Miri High Court has ordered Sarawak Shell Bhd (SSB), Sabah Shell Petroleum Co Ltd (SSPC), the Trustees of Shell Sarawak and Sabah Retirement Fund (SSSRBF) and Shell Sarawak and Sabah Provident Fund (SSSPF), to pay nearly RM100 million to 399 former employees" (Sabah Shell Petroleum Co Ltd is a UK company)
ShellNews.net: Nearly 400 former Shell staff still wait on Malaysian Appeal Court hearing after winning their High Court Case claim against Shell: "Counsel for the plaintiffs, Datuk Dr Cyrus Das, brought to the courts attention the fact that the majority of the plaintiffs are well over the age of 60 and in weak and declining health. Posted 26 May 05
Daily Mail (UK): Shell pays staff £51m in row over reserves: "Staff at Shell Oil in the US who contributed to a company savings plan -similar to a pension fund -filed the class action suit with the District Court in New Jersey in July last year. They claimed former and existing Shell directors and officers breached their fiduciary duties to the employees.": Posted Sunday 17 July 2005: Read the article
THE BORNEO POST: Former employee suing Shell: "Dr John Huong, an ex-Shell employee, is suing Shell in the Industrial Court here, alleging that he had been unfairly dismissed by the company." Posted 22 June 2005: Read the article
The Borneo Post: Shell vs Dr John Huong trial adjourned to Nov 15: "Dr Huong, an ex-Shell employee, is suing the company, alleging that he was unfairly dismissed.": "Huong, a geologist by qualification, had worked with Shell for almost 30 years before his dismissal on March 28, 2003." Posted 23 June 2005: Read the article
Article Published By ShellNews.net: Publisher, ALFRED DONOVAN, 847a Second Avenue, New York City, NY 10017, USA. The statements expressed here, and any opinions, are those of the writers alone, and neither are opinions of nor reflect the views of Shell2004.com. Content created by the writers is the sole responsibility of the writers and its accuracy and completeness are not endorsed or guaranteed. This goes for all links, too: Shell2004.com has no control over the information you access via such links, does not endorse that information, cannot guarantee the accuracy of the information provided or any analysis based thereon, and shall not be responsible for it or for the consequences of your use of that information.
© 2004/5 Shell2004.com All rights reserved.
Click here to return to ShellNews.net HOME PAGE