The Wall Street Journal: For Eni, Joining Big Leagues Will Mean Bold Acquisition: "Eni's new CEO, Paolo Scaroni, who took the helm in June, has an arguably more difficult task: bringing Eni into the same league as bigger oil majors such as Royal Dutch Shell PLC of the Netherlands and Total SA of France. ": Tuesday 20 Sept 2005
By GABRIEL KAHN
Staff Reporter of THE WALL STREET JOURNAL
September 20, 2005; Page B2
ROME -- Eni SpA, the world's sixth-largest oil company by market value, has had a great run the past six years. But some investors fear it could become a victim of its own success.
Investors have come to expect plenty from Eni, which tripled its stock price under the leadership of its previous chief executive, Vittorio Mincato, and increased its daily production of oil and natural gas by more than 70%. That helped turn Eni from an also-ran in the oil business into a player. Mr. Mincato's strong management helped energize the former state-run behemoth, while his prudence guaranteed that Eni wouldn't overpay for acquisitions.
Eni's new CEO, Paolo Scaroni, who took the helm in June, has an arguably more difficult task: bringing Eni into the same league as bigger oil majors such as Royal Dutch Shell PLC of the Netherlands and Total SA of France. Eni's current daily production is about 1.7 million barrels of oil equivalent, compared with almost 2.6 million for Total and more than 3.5 million for Shell. That is the scale and ambition that some investors have come to expect, though it is likely to be a lot harder to achieve.
Finding additional cost savings will be harder for Mr. Scaroni because much of the cleanup at Eni has been completed. In addition, Mr. Mincato's prudence means that Eni never made the bold, transformative acquisition that many had been expecting, though it made plenty of smaller ones, such as British-Borneo Oil & Gas PLC and Lasmo PLC. To build the business now, Mr. Scaroni would have to go hunting for assets at a moment when sky-high oil prices have made many targets prohibitively expensive, and when supply concerns have driven both major oil companies and increasingly oil-thirsty nations like China and India to scour the world for deals.
"Eni is coming through a very strong production-growth phase. But our analysis indicates that that is coming to an end, which puts them under some pressure," said Tom Ellacott, an analyst at energy consultant Wood Mackenzie in London.
For now, investors seem pleased with Mr. Scaroni's performance. Eni's shares have risen more than 15% on the Milan stock exchange over the past three months and closed Monday at €24.89 ($30.45).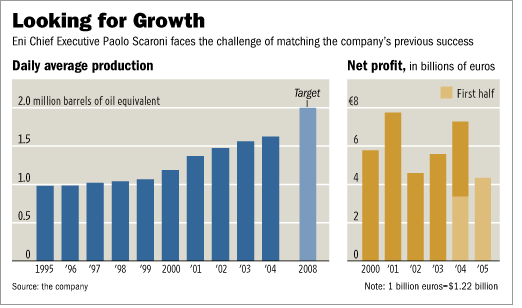 Analysts estimate that Eni could spend as much as €15 billion ($18.35 billion) without putting its credit rating at risk. In recent years, Eni flirted with two major acquisitions: Enterprise Oil PLC in 2002 and Unocal Corp. this year. But its bids were much too conservative to come away with the prize. Some now think that Eni may have missed the boat. "The acquisition that we felt would have helped Eni was Unocal. At the time these deals were viewed as quite pricey, and they held back. But with some hindsight, it looks like it would have been a cracking deal for them," said Mr. Ellacott.
The thinking among Eni executives is that a major acquisition will have to wait until prices come down. Mr. Scaroni has pledged to stick to the target of producing two million barrels of oil equivalent a day by 2008, which would require a 5% annual growth rate, high by industry standards. The company says it will try to achieve that through organic growth.
Mr. Scaroni, 58 years old, a former McKinsey & Co. consultant, comes to Eni from a stint at the helm of Italian utility Enel SpA, where he produced an annual total shareholder return of more than 18% during his three-year tenure. Though he is a relative newcomer to the industry, other Eni executives say he has proven a quick study.
Still, Mr. Scaroni must overcome some skepticism in the investor community. At the general shareholders' meeting in May, a number of private-equity funds cast a symbolic vote against Mr. Scaroni's nomination to protest the last-minute ouster of his predecessor, Mr. Mincato, by the Italian government, which holds a 31% stake in the company. Weeks earlier, Mr. Mincato had presented the highest quarterly profit ever for an Italian company. Though the private-equity funds stressed they held Mr. Scaroni in high esteem, they worried that the shuffle smacked of government interference.
Angus McPhail, an oil analyst with ING Financial Markets LLC in Edinburgh, Scotland, said Mr. Scaroni still must dash the image that he is "a government appointee." Mr. Scaroni's first major opportunity to explain his strategy comes this week at an investor conference in Rome. Senior Eni executives are confident that Mr. Scaroni will be able to dispel any doubts about his abilities to international investors.
Mr. Scaroni has been busy since taking over. Last month, he signed new exploration deals in Alaska and India. But his most ambitious project to date, a bid for a major refinery in Turkey, fell short. Buying the refinery would have nearly doubled Eni's refining capacity. In addition, Turkey represents a strategic location for Eni. As the sole operator of the massive Kashagan oil field in the Caspian Sea -- the largest new find of the last 30 years -- Eni will have to transport some of that oil across Turkey.
But Eni's bid lost out to a richer offer from a consortium that includes Shell. That loss could be a sign that Eni will need to be more aggressive on the acquisition trail if it wants to expand, as there are few bargains on offer. An Eni spokeswoman said that the company has "rigorous criteria for returns on investment," and that it had steered clear of bidding wars in the past.
Write to Gabriel Kahn at gabriel.kahn@wsj.com