The Wall Street Journal: Oil Price Surges on a New Hurricane Threat: "The storm is also seen as a significant threat to offshore production, particularly of gas. Oil companies like Chevron Corp., BP and Shell began pulling workers out of the Gulf of Mexico yesterday.": Tuesday 20 September 2005
By ANGEL GONZALEZ and MASOOD FARIVAR
DOW JONES NEWSWIRES
September 20, 2005; Page C3
HOUSTON -- Oil prices rose by more than $4, the biggest one-day gain on record, as Tropical Storm Rita threatened the Gulf Coast production and refining assets spared by Hurricane Katrina just three weeks ago.
On the New York Mercantile Exchange, October light, sweet crude futures soared $4.39 to settle at $67.39 a barrel. October gasoline futures surged 25.76 cents to $2.0427 a gallon.
October heating oil shot up 20.14 cents to $2.0384 a gallon, and October natural gas rose $1.519 to $12.663 per million British thermal units, a record close.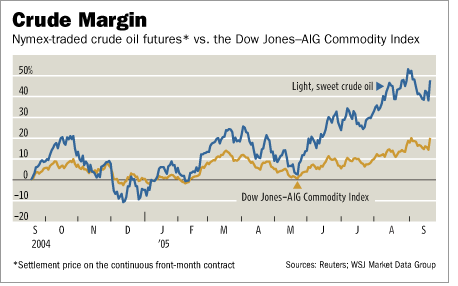 The U.S. National Hurricane Center expects Rita to grow into a major hurricane covering a wide area in the Gulf of Mexico before making landfall this weekend near Houston, the capital of the U.S. energy industry. Along the way, the storm will run near oil- and gas-producing areas in the western Gulf of Mexico.
Three weeks ago Hurricane Katrina plowed into the Gulf's other main energy hub, in Louisiana. Rita is posing a new threat to U.S. refining centers at a time when 5% of the country's capacity remains offline for months due to Katrina.
The Texas and western Louisiana coastlines endangered by Rita are home to 26% of U.S. refining capacity. While that could lead the industry to shut down more capacity than was closed by Katrina, the outages aren't expected to last of long, as the facilities at risk are farther inland and on higher ground. "You won't see the extended flooding that you did in Louisiana," said Mark Routt, an analyst with Energy Security Analysis Inc. in Wakefield, Mass. "You have larger refining capacity but out for a shorter period of time." The Gulf Coast of Texas and western Louisiana includes 19 refineries whose processing capability totals 4.5 million barrels a day. Three of the five largest U.S. refineries are in the region. Valero Energy Corp., BP PLC, Exxon Mobil Corp., Royal Dutch Shell PLC and Marathon Oil Corp. all own refineries there. The storm is also seen as a significant threat to offshore production, particularly of gas. Oil companies like Chevron Corp., BP and Shell began pulling workers out of the Gulf of Mexico yesterday.
The new threat to U.S. oil and gas output comes as the Organization of Petroleum Exporting Countries meets to discuss how it will address rising prices. Analysts think the group is more or less helpless, as it is about out of spare production capacity and because it is tight refining capacity, not a lack of crude, that is pushing up prices. "You add any supply problems on top of anything we have now, we'll likely see prices spike," said Doug MacIntyre, an analyst at the federal Energy Information Administration.
Traders in other markets also kept a cautious watch on Tropical Storm Rita. Spot gold futures prices have touched a 17-year high, mostly because of the metal's haven status and its relationship with energy prices, analysts said. "When energy moves higher, metals follow," one trader said. Rita is also causing nervousness throughout the grains, oilseeds and cotton markets, as well as the coffee, sugar and orange-juice markets, analysts said.
---- Beth Heinsohn and Terry Wooten in New York contributed to this article.
Write to Angel Gonzalez at angel.gonzales@dowjones.com and Masood Farivar at masood.farivar@dowjones.com