The Wall Street Journal: Oil Price Settles 60 Cents Higher: "The forecast path, which has changed little in the past 36 hours, would take the storm about 100 miles southwest of Houston, putting some 13% of U.S. refining capacity potentially at risk of the storm's most dangerous winds.": Thursday 22 Sept 2005
By MASOOD FARIVAR
DOW JONES NEWSWIRES
September 22, 2005; Page C5
Oil futures finished higher after briefly topping $68 in New York, and gasoline futures surged, as Hurricane Rita forced a wave of shutdowns in the already stretched U.S. refining industry.
November light, sweet crude futures settled up 60 cents on the New York Mercantile Exchange at $66.80 a barrel after hitting a high of $68.27. October Nymex gasoline futures settled up 7.65 cents at $2.0531 a gallon.
"We had a volatile day, with prices trading back and forth, as traders tried to figure out where the hurricane was headed and what it was going to do," said Peter Beutel, president of energy trading advisory firm Cameron Hanover in Connecticut. Rita strengthened into a Category 5 hurricane late yesterday afternoon, with maximum sustained winds of more than 165 miles per hour.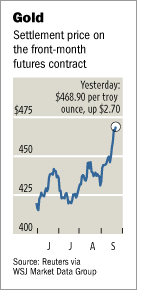 The U.S. National Hurricane Center sees the storm making landfall sometime Saturday morning on the Texas coast between Lavaca Bay and Galveston Bay as at least a Category 3 storm. The forecast path, which has changed little in the past 36 hours, would take the storm about 100 miles southwest of Houston, putting some 13% of U.S. refining capacity potentially at risk of the storm's most dangerous winds.
Eight of the nine refineries in the area are deeply cutting back operations or shutting down entirely, threatening to further tighten U.S. fuel supply. About 5% of U.S. refining capacity is still down in the aftermath of Hurricane Katrina.
"There's a risk we could have substantial impact on further refineries," Guy Caruso, head of the federal Energy Information Administration, said in a hearing before the Senate Commerce Committee. "Clearly, we cannot afford any further disruption to gasoline production."
ConocoPhillips, Royal Dutch Shell PLC and BP PLC are among the companies to shut refineries ahead of the storm, which could cut power and cause flooding. Many companies have evacuated offshore production platforms as well.
Prices may have fallen from their highs as traders concluded the storm would fail to hit Houston head-on, meaning refineries could restart quickly. In addition, the EIA yesterday reported an unexpected jump in gasoline inventories.
Prices rose sharply in overnight electronic trading after the session ended, however, with crude futures up 65 cents at $67.45 a barrel and gasoline up 4.19 cents at $2.095 a gallon. Tim Evans, senior analyst with IFR Markets in New York, said the Houston-area refineries will likely remain down for as long as a week even if Houston misses a direct hit. "You can pencil in a full week of output," he said.
In other commodities news:
NYMEX SALE: The New York Mercantile Exchange has signed a nonbinding letter of intent to sell a 10% equity stake to private-equity firm General Atlantic LLC for $135 million. The agreement caps a long effort by Nymex to settle on a strategic direction as interest in energy and competition mount. The exchange will discuss the deal Sept. 29 with shareholders, who will vote on the proposal at a later date.
Write to Masood Farivar at masood.farivar@dowjones.com