The Wall Street Journal: Hurricane Rita Strengthens Into a Category 5 Storm: Posted Thursday 22 September 2005
Bush Declares Emergencies
In Texas and Louisiana
A WALL STREET JOURNAL ONLINE NEWS ROUNDUP
September 21, 2005 6:38 p.m.
As many as 1.3 million people were ordered to clear out along the Gulf Coast, and hospital and nursing-home patients were evacuated Wednesday as Hurricane Rita turned into a Category 5 storm with sustained winds of 165 mph.
President Bush declared emergencies in Texas and Louisiana, opening the way for federal aid. He said federal, state and local authorities were coordinating in preparation for Rita.
Forecasters said Rita could be the most intense hurricane on record to hit Texas. All of Galveston, Texas, low-lying sections of Houston and Corpus Christi, and a mostly emptied-out New Orleans were under mandatory evacuation orders, one day after Rita sideswiped the Florida Keys as a far weaker storm and caused minor damage.
By late afternoon, Rita was centered about 600 miles east-southeast of Galveston and 700 miles southeast of Corpus Christi, drawing strength from the warm waters of the gulf. Forecasters predicted it would come ashore Saturday along the central Texas coast. But even a slight rightward turn could prove devastating to New Orleans.
| | |
| --- | --- |
| Edgewater Retirement Community residents waited to be evacuated from Galveston Island, Texas | |
Eager to avoid the public pounding he got for his response to Hurricane Katrina, Mr. Bush pledged to be "ready for the worst." The federal government rushed hundreds of truckloads of water, ice and ready-made meals to the Gulf Coast. The Federal Emergency Management Agency sent nearly 1,200 medical and rescue personnel into Texas. FEMA also asked the Pentagon to send 2,500 hospital beds to potential disaster zones, and was sending 200 buses to the Lone Star State to move residents out of harm's way.
Mr. Bush pleaded with people in the region to comply with mandatory evacuation orders. "I urge the citizens to listen carefully to the instructions provided by state and local authorities and follow them," he said.
Meanwhile, the House approved a $6.1 billion package of tax breaks Wednesday to help families recover from Hurricane Katrina and encourage Gulf Coast businesses to reopen their doors, or at least keep employees on the payroll.
The House passed the bill 422-0. The vote sent the bill to the Senate, where lawmakers hoped to quickly give their final approval. The package offers tax assistance to people and businesses dislocated by Katrina and expanded tax breaks for some charitable donations to help them.
Headed Toward Texas
Rita is expected to remain a Category 5 storm until it makes landfall. (See the hurricane center's strike-probability map.)
Houston Mayor Bill White ordered mandatory evacuations beginning at 6 a.m. tomorrow for certain areas of the city. Mr. White asked employers and schools to halt regular operations tomorrow and Friday, allowing students and employees to evacuate. He also asked residents to help ferry elderly neighbors and others in need of evacuation. "There will not be enough government vehicles in every area … to do the job," he said.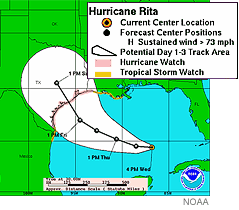 Houston, with 4 million residents in its metropolitan area, is home to an estimated 150,000 Louisiana residents who fled Hurricane Katrina. (See related article.)
In Galveston, an island city 50 miles south of Houston that is no stranger to hurricanes, officials called for residents to evacuate inland and closed schools for the week. Galveston hotels and rental cottages were asking visitors to leave the island, and residents were boarding up vacation homes.
Situated on an island 8 feet above sea level, Galveston was the site of one of the deadliest natural disasters in U.S. history: An unnamed hurricane in 1900 that killed between 6,000 and 12,000 people and practically wiped the city off the map. (Read more about the Storm of 1900.)
On Wednesday, Texas state officials pulled back emergency workers from Hurricane Katrina relief operations. New Orleans Mayor Ray Nagin said the federal government has provided 500 buses to empty the city of holdouts still there. Residents and business owners trying to return to assess the damage to their property will be turned back at checkpoints into New Orleans.
The U.S. Army Corps of Engineers raced to patch the city's fractured levee system for fear the additional rain could swamp the walls and flood the city again. The Army Corps said New Orleans's levees can only handle up to 6 inches of rain and a storm surge of 10 to 12 feet.
In addition, the corps had 800 giant sandbags weighing 6,000 to 15,000 pounds on hand, and ordered 2,500 more to shore up low spots and plug any new breaches.
Threat to Refineries
Crude-oil prices rose again on concern that Rita would smash into key oil facilities in Texas and the Gulf of Mexico. Hundreds of workers were evacuated from offshore oil rigs, less than a month after Katrina damaged some installations. Texas, the heart of U.S. crude production, accounts for 25% of the nation's total oil output.
Crude-oil prices rose more than $1 a barrel earlier Wednesday as traders braced for the effects of the storm. Light, sweet crude for November delivery rose 60 cents to settle at $66.80 a barrel on the New York Mercantile Exchange, after surging as high as $68.27 earlier Wednesday.
Heating oil jumped nearly 3 cents to $2.0387 a gallon, while gasoline surged more than 7 cents to $2.0531 a gallon.
Galveston County, which lies between Houston and the Gulf, is home to 4% of the country's refining capacity, according to the county Office of Emergency Management. The county has refineries owned by BP PLC, Valero Energy Corp. and Marathon Oil Corp.
BP began closing parts of its massive Texas City refinery and expected to decide whether to shutter the entire facility later in the day. BP's 437,000 barrel a day Texas City refinery is the country's third largest.
Exxon Mobil Corp., Pasadena Refining and Deer Park Refining, a joint venture of Shell and Petroleos Mexicanos, also have begun pre-storm preparations.
A big risk for refineries is power outages. Based on the last major storm to damage the Houston electrical grid, some refiners in the area could be without power for at least two weeks if Hurricane Rita hits the city, according to Centerpoint Energy, Houston's power distribution company.
Alicia, a Category 3 hurricane, slammed into Houston in 1983, knocking out power for two weeks to 750,000 of Centerpoint's 1 million customers at the time, said spokeswoman Leticia Lowe.
Minor Damage in the Keys
Rita created relatively few problems along Florida's Keys, where thousands of relieved residents who evacuated were expected to return in earnest Wednesday.
There were reports of localized flooding, and some sections of the Lower Keys remained without power Wednesday. But the storm's eye didn't hit land.
Visitors ordered out of the Keys will be invited back Friday, and virtually all other voluntary evacuation advisories in South Florida were lifted after Rita roared past.
Rita is the 17th named storm of the Atlantic hurricane season, making this the fourth-busiest season since record-keeping started in 1851. The record is 21 tropical storms in 1933. And with Rita, seven hurricanes have hit or passed near Florida in the last 13 1/2 months.
The hurricane season isn't over until Nov. 30.
Write to the Online Journal's editors at newseditors@wsj.com