The Wall Street Journal: Storm News Tracker: "Valero Energy's 255,000-barrel-a-day refinery in Port Arthur is standing in floodwater, as is Motiva Enterprises's 285,000-barrel-a-day refinery. Royal Dutch/Shell affiliate Shell Oil Co. owns 50% of Motiva.: Sunday September 25, 2005 2:34 a.m.
Updated regularly with news on Hurricane Rita and the recovery from Katrina. All times EDT.
Sunday, Sept. 25
12:45 a.m.: Hurricane Rita is fueling worries among economists who were never very comfortable with the rosy scenarios spun in the wake of Hurricane Katrina, MarketWatch reports. With the coming week full of economic reports that will indicate how the economy reacted to Katrina, the idea that Rita could be just as bad has many economists concerned about the next several months.
12:08 a.m.: Brent crude-oil prices slipped during Sunday trading in London. November Brent crude which opened at 2330 GMT, or 7:30 p.m. Saturday EDT, for a special session on London's International Petroleum Exchange, fell 44 cents to $62 a barrel in light activity.
Saturday, Sept. 24
10:48 p.m.: Rita is now a tropical depression, the National Hurricane Center says.
10:44 p.m: By Saturday evening, the only reported death was in Mississippi, where one person was killed by a tornado that spun off the remains of the hurricane, the Associated Press reported.
10:05 p.m.: Citgo Petroleum said its 324,000-barrel-a-day Lake Charles, La., refinery is without power and may have water damage at electrical substations. The company will make a decision Sunday about restarting operations based on a closer examination. The Citgo facility is the fifth largest of the 16 refineries in Texas and Louisiana that shut down ahead of Hurricane Rita.
8:40 p.m.: Slidell, La., Mayor Ben Morris says people in the southern end of the city should be on vigil to watch for rising waters, WWL-TV in New Orleans reports. The mayor said people in those subdivisions should consider leaving for higher ground, the CBS affiliate reported. Slidell is northeast of New Orleans on Lake Pontchartrain. See the Google map or read more from WWL.
8:30 p.m.: The petrochemical industry is "looking good," said Texas Emergency Management State Coordinator Jack Colley. "We're working to get power restored." He said the number of utility customers in Texas without power due to Rita was an estimated 800,000 as of 3 p.m. CDT Saturday.
7:40 p.m.: Gov. Blanco, in Abbeville, La., tells CNN: "The effects of this storm are not yet over." Earlier, near Abbeville, water poured into Vermilion Parish from a canal lock intentionally left half-open by the Army Corps of Engineers on the Intracoastal Waterway. More than 600 square miles of low-lying marshes, farmland and crawfish ponds were flooded. Sheriff Michael Couvillon said 100 people were rescued from houses cut off by the floods. Fortunately, most houses on the coastal flood plain are on stilts 15-feet high, Sheriff's Deputy Steven Lege said.
7:35 p.m.: Continental Airlines said it plans to operate a nearly complete schedule of flights at its hub at Houston's Bush Intercontinental Airport beginning early morning Sunday. It said the airport was "not significantly impacted" and that weather forecasts are favorable.
| | |
| --- | --- |
| Ken Wells | |
7:15 p.m.: The Wall Street Journal's Ken Wells reports from New Orleans. It's one thing to be under tornado warnings well through the evening. The people filtering in to Molly's and Johnny White's, the French Quarter's two reliably open bars, are simply ignoring them under the standard that bad weather ought never get in the way of cold beer. But the forecast is for three days of rain, rain, rain -- precisely what a city longing to dry out and finally get on with its business doesn't need. With Rita looming, Molly's loomed as a welcoming sight. Inside, we ran into Harry Anderson, the star of the 1980s sitcom "Night Court," who makes New Orleans his fulltime home and also owns a nightclub here. Read Ken's full report.
7:10 p.m.: Kris Hudson reports from Port Arthur, Texas. Bill Worsham hesitated briefly when I asked if I could accompany him to see how badly Hurricane Rita had pummeled his house here. Rain and wind gusts from one of Rita's storm bands buffeted our idling trucks in the middle of a vacant, soggy highway. Mr. Worsham says, "Well, this is going to be pretty emotional for me." Read Kris's full report.
7:05 p.m.: High floodwaters submerged parts of Louisiana. In Abbeville, La., floodwaters were nine feet deep near town; farther west in Cameron Parish, sheriff's deputies watched appliances and what appeared to be parts of homes swirling in the waters of the Intracoastal Waterway. The region was largely evacuated ahead of Rita, but some residents stayed behind and were rescued by helicopter. Among them were a pregnant woman and her 4-year-old son stranded in Port Lafourche, a Gulf Coast outpost about 60 miles south of New Orleans.
| | |
| --- | --- |
| Kris Hudson | |
5:55 p.m.: The Wall Street Journal's Kris Hudson reports from Houston. By Saturday afternoon, hunting for working gas pumps became an obsession for Houstonians. Kermit Leistikow found the pumps flowing at a Sam's Club off I-10 on Uvalde Road. The auto-parts importer was happy to pony up $2.67 a gallon to top off his truck's previously half-full tank. "I'm feeling pretty confident," Mr. Leistikow said after finishing his turn at the pump. "It's like you've won a bit of a lottery or something. But when something like this [Rita] comes through, we all know gas prices are going to go up."
5:45 p.m.: Many Houstonians are ignoring officials' requests not to return. Traffic picked up on I-45, the main north-south artery from Dallas to Houston and Galveston, with vehicles full of children, pillows and pets. House Majority Leader Tom DeLay said he saw emergency relief vehicles snarled in traffic heading to Houston as he drove from his house in Sugar Land, southwest of the city, to Austin. What the evacuees were coming home to was unclear. Stores were closed. Bank machines had no cash. Police were controlling the long lines at the few open gas stations. The Houston school district and six others in the area plan to remain closed until Wednesday.
5:30 p.m.: There have been no indications of spills in Gulf coast oil installations and facilities after the passage of Hurricane Rita, but assessments are still in progress, a FEMA spokesman said.
| | |
| --- | --- |
| Mayor Thomas | |
4:45 p.m.: Galveston Mayor Lyda Ann Thomas reiterates at a press conference that residents shouldn't return just yet. "The city of Galveston is not safe. It is not safe," she says. Along Seawall Boulevard, which skirts the gulf, streetlights snapped and hung by wires. Water covered many streets, making them impassable. City officials said 75% of the island remained without electricity.
4:30 p.m.: The Wall Street Journal's Chad Terhune reports from New Orleans. Mayor Nagin said he planned to restart his re-entry plan for Algiers and other dry areas of New Orleans as soon as Monday or Tuesday. And within a week he said he may encourage residents from other areas to begin returning. Mayor Nagin said Hurricane Rita had delayed efforts at restoring electricity, drinking water and city services by about three to five days. New Orleans remains under the threat of another major storm since the Atlantic hurricane season hasn't ended. Mayor Nagin said he was only encouraging residents to return who were "mobile" and able to evacuate quickly. I hope we can stay on the line and dry." Mayor Nagin said he has rented a home in Texas for his family and enrolled his daughter in school there.



Kris Hudson



Homes in downtown Port Arthur, Texas, are surrounded by flood water following Rita.




4:30 p.m.: The Wall Street Journal's Kris Hudson and Steve LeVine report from Port Arthur, Texas. "We all feel it could have been a lot worse," Port Arthur's city manager, Steve Fitzgibbons, told reporters at a temporary emergency center at a Holiday Inn. "It was not as catastrophic as some had predicted." He said residents could return once the city cleared streets of debris and electricity was restored. A number of neighborhoods suffered minor flooding, with about a foot to two feet of water rising near doorsteps in some areas. Some storefronts were torn apart, and bricks from those buildings litter several streets. The port appeared to suffer very little damage, though the roof of one warehouse had been torn off. Mr. Fitzgibbons said oil-industry inspection teams tested the air for signs of gas or chemical leaks and found no danger. "If there were releases" of chemicals, the teams "would have picked it up," he said.

3:40 p.m.: New Orleans Mayor Ray Nagin says he flew over city two hours ago and then personally inspected the battered Lower Ninth Ward. He says water there ranges from four to 12 feet. The flooding seems to be contained in the Lower Ninth Ward area, and he didn't see any significant flooding in any other part of the city. The other canals – 17th Street and London Avenue – appear to be holding up, he said.
3:38 p.m.: Texas announces plan for a staggered return of more than 2.5 million Rita evacuees over at least three days. Read more details.
3:35 p.m.: Energy companies have suspended 100% of oil production and 75% of the natural gas production in the Gulf of Mexico, the Minerals Management Service reported. The industry suspended, or "shut in," 1.5 million barrels of oil and 7.5 billion cubic feet of natural gas per day, according to Saturday's data from the MMS, which oversees oil and gas production in the Gulf.
3:30 p.m.: Sen. Kay Bailey Hutchinson said at a press conference in Austin, Texas, that she's sure "we did save a number of lives" by evacuating affected areas, including hard-hit Jefferson County. She said officials are concerned about potential flooding in Nacogdoches, Texas, where some evacuees from Houston are stuck after running out of gas there. "It seems that the No. 1 issue we have now is the shortage of gasoline," she said, adding, "Hopefully, we will not have spiking prices throughout our country."
3:15 p.m.: The Wall Street Journal's Chad Terhune reports from New Orleans. Officials with the U.S. Army Corps of Engineers estimate that Rita has set back the levee repairs in New Orleans by at least three weeks. The Corps said there was at least three feet of water in St. Bernard Parish and the Ninth Ward -- two areas flooded after Katrina.
| | |
| --- | --- |
| R. David Paulison | |
3:15 p.m.: FEMA said that while the storm remains dangerous, no fatalities as a result of the storm have been reported. "The damage is not as serious as we had expected it to be,'' said acting FEMA director R. David Paulison. "The evacuations worked," adding, "We have no reported deaths at this time from any of the states.''
3:05 p.m.: President Bush lands in Austin, Texas.
3:00 p.m.: The Energy Department sounds an optimistic note on the region's refineries. Based on computer modeling and initial reports, department spokesman Craig Stevens said, "We're cautiously optimistic" about the Houston region and "that the petroleum supply will be OK." He added: "But we really need to look at the Port Arthur region and other areas directly impacted. ... It may still be two or three days before we get a sense of the actual picture," he said. Meanwhile, Sen. Kay Bailey Hutchison (R., Texas) was told Saturday by some Port Arthur area officials that they were concerned about flooding at some of the refineries there, according to the senator's spokesman.
| | |
| --- | --- |
| Gary McWilliams | |
2:40 p.m.: The Wall Street Journal's Gary McWilliams reports. Aerial reconaissance of the two major Houston-area ports showed little to no damage, the U.S. Coast Guard reported. "There was no significant damage whatsoever during the hurricane," said Coast Guard Chief Warrant Officer Adam Wine. Coast Guard helicopter pilots flew over the Houston Ship Channel, the state's largest port for crude oil tankers and cargo deliveries, and Port Arthur, home to four major refineries, late morning Saturday. The pilots reported that Houston's port, which closed Thursday morning to shipping, had extremely low water, likely due to the storm pulling water out of the channel and strong winds pushing it away, Wine said. Read Gary's full report.
| | |
| --- | --- |
| Traffic was light in downtown Houston around noon, but there were fears of chaos on the roads if residents rushed back. | |
2:20 p.m.: In a brief press conference in Austin, Texas, Steve McCraw, the Director of the Texas State Homeland Security Office, says he wanted media to get the word out to the public that gridlock is a major problem right now as evacuees try to head home despite urgings not to do so yet. He also warned of more problems with gasoline shortages if drivers rush back. Texas Lt. Gov. David Dewhurst told reporters in Austin that one big problem causing gridlock on roads is that many evacuees took all of their cars when they left their homes in recent days. Roads back to Houston can accommodate 360,000 vehicles per day, but about 1.2 million vehicles evacuated the city, Mr. Dewhurst said.
2:20 p.m.: AP video reports posted on Lake Charles, La., and Beaumont, Texas.
2:00 p.m.: Rita is now a tropical storm, the National Hurricane Center says.
| | |
| --- | --- |
| Flooding in the hard-hit Lower Ninth Ward, and into St. Bernard Parish, was expected to continue. Downtown New Orleans lies to the west of this map. | |
1:40 p.m.: More from The Wall Street Journal's Chad Terhune in New Orleans. Fire and police officials who spent the last three weeks conducting rescue and cleanup efforts after Katrina were disheartened at the sight of the Ninth Ward being under water again. Todd Foster, a captain in the Charleston, Ill., fire department, came to New Orleans a week ago with five other Illinois firefighters. Two days ago, his crew and others were driving their firetrucks in the mostly dry Ninth Ward, although some of the roads were impassable and many were covered with muck. "Now they have to start all over," Mr. Foster said, watching water flow from the Industrial Canal into the Ninth Ward Saturday afternoon. Some houses were half submerged again. Military helicopters were flying over the Industrial Canal Saturday assessing the levee damage. But strong winds were delaying efforts to drop sandbags from the air onto the damaged levee.
1:10 pm: Rita inundated fishing villages along Louisiana's coast, where dozens of people were rescued from homes swamped by up to 6 feet of water. "We need help now,'' said Sherry Adam of Lafitte, about 20 miles south of New Orleans. Rescuers in boats were pulling hundreds of residents from flooded homes along a remote stretch of swamp land between the city and the Gulf of Mexico. Seawater poured over levees and into homes. "I've never seen it this bad,'' said Adam, 55 years old. "This land will be gone in no time."
1:08 p.m.: Houston Mayor Bill White says people "should not be getting in their cars and returning home." He adds, "There is not any certainty that you will be able to get gas on the way back … people need to hold back so that … emergency supplies providers" can get into the city. He says police are watching people's property and there is "no tolerance" for any law breaking.
1:00 p.m.: Galveston officials say at a press conference that the barrier-island city is not yet safe to return to. They say police are patrolling the streets and assure residents their homes are safe. They say there are no known deaths. One woman was burned, and two firefighters were also injured.
12:55 a.m.: Catastrophe-risk modeling company AIR Worldwide estimates Rita will result in insured losses between $2.5 billion and $5 billion, far less than the tens of billions of dollar many have estimated for Katrina. The company said Rita's track took its strongest winds over the sparsely populated western Louisiana coast, meaning "relatively low insured losses for a storm of its intensity and size."
12:35 a.m.: The Wall Street Journal's Steve LeVine reports from Port Arthur, Texas. Two major refineries here are standing in about four to five feet of floodwater from Rita. The flooding suggests there may be delays of several weeks in restarting the refineries, which could lead to gasoline-supply shortages and higher gas prices in the U.S. Valero Energy's 255,000-barrel-a-day refinery in Port Arthur is standing in floodwater, as is Motiva Enterprises's 285,000-barrel-a-day refinery. Royal Dutch/Shell affiliate Shell Oil Co. owns 50% of Motiva.
| | |
| --- | --- |
| Melanie Trottman | |
12:15 p.m.: The Wall Street Journal's Melanie Trottman reports from Austin, Texas. There have been no deaths reported in Texas from Rita, according to Jack Colley, the Texas state coordinator for the governor's division of emergency management. Mr. Colley said there have been many power outages and there's substantial debris on roads. In Beaumont, a search and rescue team is providing food, water and ice to residents, he said. Ten mass-care strike units are heading to affected areas with food, water and ice. The units include the Salvation Army and U.S. military operations. In addition, officials plan to use special air operations to reach residents in 18 counties affected by Hurricane Rita.
| | |
| --- | --- |
| Chad Terhune | |
12:01 p.m.: Chad Terhune reports from Louisiana. In Plaquemines Parish, another area hit hard by Katrina, officials were planning to assess the damage from Rita by airboat or helicopter Saturday morning. "It's getting real frustrating," said Benny Rousselle, president of Plaquemines Parish. "We're waking up blind just like you. We're going out soon" to check the damage. He hoped to get an early assessment so the Army Corps of Engineers could line up contractors to begin repair work Monday.
11:55 a.m.: Home Depot said Saturday that Rita forced the closure of 46 of its stores, 41 of which are in the Houston market. Home Depot hopes to reopen some of those stores later on Saturday or early Sunday, but before it does so, "we have to make sure our stores are safe," said spokesman Don Harrison. See more business-impact updates.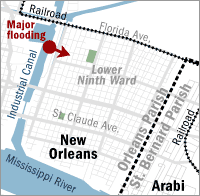 11:55 a.m.: Chad Terhune reports from Louisiana. It wasn't raining in New Orleans near midday Saturday, offering modest relief to the water-logged area. But large areas of St. Bernard Parish, just outside city limits, were under water again. The emergency operations center in that parish was unreachable as waters flooded out Interstate 510. St. Bernard Parish firefighter Brandon Pigg was driving back in Saturday morning and had to stop at the floodwaters. "This was completely dry," Mr. Pigg said, looking out at where the Interstate became a lake and cars and buildings were submerged. "This is driving people crazy." He said he is certain his home in Arabi is flooded again. Mr. Pigg said St. Bernard officials evacuated firefighters and other rescue personnel Friday afternoon as the waters began to rise.

11:45 a.m.: "Houston and Galveston were spared the worst," said Texas Gov. Rick Perry at a briefing in the state's emergency operations center, echoing comments by other officials. The governor said, however, that heavy rainfall will cause severe flooding, especially in the northeastern counties. He urges residents not to return yet. Assessment teams stood ready to check refineries near Beaumont, Port Arthur and Lake Charles for damage, but they were held back by winds exceeding 50 miles an hour, said Texas State Coordinator Jack Colley.
11:34 a.m.: Updated photos posted.
| | |
| --- | --- |
| Updated refineries map | |
11:30 a.m.: The International Energy Agency remains on alert as Rita blew ashore near the Texas-Louisiana state line, the energy hub of the U.S. "I'm neither reassured nor worried as long as I haven't received an assessment of damages," IEA executive director Claude Mandil told Dow Jones Newswires. Mandil, however, said there are early signs that the hurricane has spared offshore oil-production platforms in the Gulf of Mexico and that he doesn't plan to call off a trip to South Africa.
11:05 a.m.: The Wall Street Journal's Steve LeVine drives east from Houston to Beaumont, Texas. On Interstate 10 about 50 miles from Beaumont, there's moderate rain and light visibility. Traffic is mild, but cars are moving relatively slowly at about 40 mph. Some road warning signs have been knocked down alongside the highway. There's only about an inch of water on the road. East of Eminence, Texas, five abandoned cars straddled the highway, apparently out of gas. One car is missing a tire. The cloud cover here is thick, and the sky is completely gray. (Latest AP video from Houston)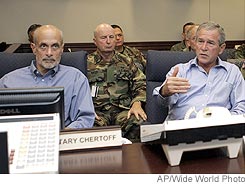 11:00 a.m.: In Colorado, President Bush received an hour-long update this morning from military leaders at the U.S. Northern Command and from other federal officials via videoconference. "It comforts me knowing that our federal government is well-organized and well-prepared to deal with Rita," Bush said. "The first order of business now is search and rescue teams -- to pull people out of harm's way." Bush warned people who evacuated from coastal areas to be careful about returning home. Next stop for Bush is Austin, Texas.
10:55 a.m.: National Hurricane Center says Rita's maximum sustained winds have dropped to 75 mph, and the storm is now a Category 1 hurricane. "RITA LOSING PUNCH FAST...EXPECTED TO PRODUCE TORRENTIAL RAINS DURING THE NEXT FEW DAYS."
10:45 a.m.: Geraldo Rivera reports on Fox News that Port Arthur, Texas, is surrounded by up to seven feet of water and oil refineries are inaccessible. "Water, water everywhere," he says.
| | |
| --- | --- |
| Kris Hudson | |
10:40 a.m.: The Wall Street Journal's Kris Hudson reports from Houston. Right now, the east side of Houston is experiencing very light rain, with occasional wind gusts. There are puddles of rain on the streets but no flooding, and there doesn't appear to be any wind damage in the area. During the night, there were a few wind gusts and sheets of heavy rain at times. Electricity at the hotel went out for about two minutes around 1:30 a.m. before kicking back on.
10:35 a.m.: Power company Entergy reported that nearly 300,000 homes and businesses in Louisiana are without electricity because of Rita, in addition to the more than 200,000 still lacking power from Katrina. More details from Entergy.
10:05 a.m.: Lake Charles, La., Mayor Randy Roach says there is "extensive damage" to the city, including wind damage and broken telephone poles, according to KPLC-TV, an NBC affiliate in the city. Roach also reports that the lake is "higher than anyone alive today has ever seen it," and that it reaches over the boardwalk, according to KPLC. Rita's heaviest rains -- up to 3 to 4 inches an hour -- fell in Lake Charles, National Weather Service meteorologist Patrick Omundson said. (See map showing major oil refineries in Lake Charles and nearby Beaumont and Port Arthur.)
9:50 a.m.: There have been no reports of fatalities through early morning, though rescuers in many areas had to wait for winds to subside before launching searches.
9:15 a.m.: More than 450,000 CenterPoint Energy customers in Texas were without power in the company's service area, which stretches from Galveston into Houston north to Humble, company spokeswoman Patricia Frank said. Entergy spokesman David Caplan said about 55,000 of its Texas customers in the storm-affected area were without electricity.
9:10 a.m.: Wal-Mart Stores says Rita has forced the closure of 150 locations, and that 12 locations remain closed from Katrina. In the areas affected by Rita, it was seeing higher sales of canned food, water, batteries and lighting products, such as candles, flashlights and lanterns. In the Katrina region, it was experiencing more sales of basic apparel, hardware and cleaning supplies.
| | |
| --- | --- |
| Mayor White | |
9:00 a.m.: Houston leaders are advising the hundreds of thousands of people who evacuated to not head home yet. Mayor Bill White said emergency officials will ascertain the fuel situation and do a damage assessment before announcing when people should return and businesses can reopen. The area suffered widespread electrical outages but appears to have avoided major damage. White said that Houston police overnight answered 28 reports of burglaries that led to 16 arrests, which is lower than a typical Friday night.



KTRK TV



Houston's ABC affiliate shows images of debris on empty Galveston streets.




8:40 a.m.: With Rita making landfall to the east, Houston and Galveston were spared a direct hit. "It looks like the Houston and Galveston area has really lucked out,'' said Max Mayfield, director of the hurricane center. A reader posts on the Houston Chronicle's Stormwatchers blog: "Hurricane-wise, Rita appears here to have the wind of a seventy year-old smoker who's just run up ten flights of stairs. I'm not about to go outside and get struck by that "lucky wind chime" but I'll wait until it's safe to head out for a second to spy on the HL&P [Houston Light & Power] substation, motor pool, Westpark, and so on.
8:35 a.m.: Headlines from front pages of Houston Chronicle and New Orleans Times-Picayune read: RITA VENTS HER FURY and FLOODED AGAIN, respectively.
8:30 a.m.: In Jasper County, Texas, north of Beaumont, a house with seven people inside floated in floodwaters after it came off its foundation, said sheriff's communications supervisor Alice Duckworth. Thirty emergency workers were stuck in the emergency operations center because of flooding, she said. "We can't get any fire trucks out," she said.
8:00 a.m.: The National Hurricane Center says Rita's maximum sustained winds have decreased to near 100 mph, making it now a category two hurricane. See current advisory and maps, and current infrared loop.
7:10 a.m.: Fires were reported in and around Houston, including one in a two-story apartment building in southeast Houston that left at least eight units damaged, authorities said. Nobody was hurt, according to District Chief Jack Williams. Another blaze broke out before dawn at a shopping complex in Pasadena. There were no immediate reports of injuries.
6:42 a.m.: The National Weather Service says New Orleans is expected to be hit by a band of rain that is dropping 3 to 4 inches an hour. The National Hurricane Center reports that over-topping continues along the industrial canal levee in the New Orleans area, with extensive storm surge flooding of low lying communities in Lower Terrebonne Parish and Lower Jefferson Parish has also been reported. "STORM SURGE FLOODING IS LIKELY ONGOING IN MANY LOW LYING COASTAL AREAS...AND WILL CONTINUE THROUGHOUT THE DAY." See latest advisory.
6:18 a.m.: Residents in Beaumont, Texas, called police early Saturday to report roofs being ripped off and downed trees, the Associated Press says. Rescuers were forced to wait until the winds outside died down to safe levels. "We can't even get out to check yet,'' said Sgt. Wendell Carroll of Louisiana's Calcasieu Parish Sheriff's Office. "All we can hear is the wind a howling.''
| | |
| --- | --- |
| Mayor White | |
6:05 a.m.: The Houston Chronicle reports that Texas could see a repeat of the highway gridlock and fuel shortages that frustrated and stranded motorists if Hurricane Rita evacuees rush back home the same way they left. Oil companies are gearing up to replenish drained gas stations that were sucked dry after the masses motored for higher ground. Once the hurricane passes, city and state officials will attempt to coordinate residents' return home in the hopes of avoiding the traffic snarl generated by the evacuation. But Mayor Bill White acknowledged the effort will be largely advisory. "Coordinating the acts of citizens -- let's be serious," he said. "There aren't going to be mandated days on when to come back."
5:56 a.m.: Windows in some buildings in downtown Houston are breaking either as a result of the wind or debris flying through the air, local KHOU TV reports. Houston police officers have been told to take shelter from falling debris.
5:23 a.m.: The U.N.'s emergency relief co-ordinator said recent hurricanes are a "wake-up call" to the world about the dangers of global warming. "There is no doubt that the climate is changing," Jan Egeland said during an interview with BBC radio, adding that he believes Katrina and Rita are the result of climate change.
5 a.m.: ... RITA MOVES ONSHORE NEAR SABINE PASS AS A DANGEROUS CATEGORY THREE HURRICANE ... CURRENTLY NEAR PORT ARTHUR TEXAS ... according to the National Hurricane Center's latest advisory. The 5 a.m. EDT advisory continues to say that the hurricane is moving toward the northwest near 12 mph. The NHC expects a gradual turn toward the north and a decrease in forward motion during the next 24 hours. THIS MOTION SHOULD BRING THE CENTER OF RITA FARTHER INLAND OVER SOUTHEASTERN TEXAS TODAY. See current advisory.
4:29 a.m.: The Associated Press reports from New Orleans. The city was under water again Saturday as Rita's storm surge cascaded over the city's patched levees, just days after already-devastated neighborhoods had been pumped dry. Floodwaters were pooling along areas that were slammed by Katrina last month and have been all but abandoned ever since. The water covered piles of rubble and mud-caked cars, rising swiftly to the top of first-floor windows. See a map showing city levees.
3:38 a.m.: Rita makes landfall as a Category 3 storm just east of Sabine Pass, on the Texas-Louisiana line, bringing with it a 20-foot storm surge and up to 25 inches of rain, the National Hurricane Center says.
| | |
| --- | --- |
| Rita makes landfall at the Texas-Louisiana border. | |
3 a.m.: The National Hurricane Center's latest advisory says. ... CENTER OF MAJOR HURRICANE RITA ABOUT TO MAKE LANDFALL ... NORTHERN EYEWALL HAS SPREAD ONSHORE. ... See current advisory and maps, and current infrared loop.
2:54 a.m.: Beaumont, Texas, loses electricity as Rita strikes, CNN reports. Correspondent Gary Tuchman says the lights went out as strong winds and heavy rain pounded the city.
2:20 a.m.: Port Arthur Mayor Oscar Ortiz, whose city is in the direct line of the projected path, says on CNN: "I'm afraid we're going to get it real bad." Nearly everyone in the city of roughly 57,000 has evacuated.
1:55 a.m.: Hurricane Rita's strongest winds came ashore along the Texas-Louisiana border, as the storm battered the coast with stinging rain and pounding waves that threatened flooding across the low-lying region. The National Hurricane Center says the eyewall -- the ring of high wind surrounding the calm eye -- lashed the coastal area between Sabine Pass, Texas, and Cameron, La.
1:40 a.m.: According to a National Hurricane Center advisory for Houston, the core of Hurricane Rita will make landfall near the Texas and Lousiana line between 4 a.m. and 6 a.m. EDT. See full advisory.
1:20 a.m.: Updated photos posted.
1:05 a.m.: National Hurricane Center reports on Rita's march. "EYE OF MAJOR HURRICANE RITA WOBBLING TOWARD LANDFALL NEAR THE LOUISIANA/TEXAS BORDER ... STRONG WINDS AND HEAVY RAINS BATTERING SOUTHERN LOUISIANA AND SOUTHEASTERN TEXAS." NHC says Rita is about 40 miles south-southeast of Sabine Pass along the Gulf Coast at the Texas/Louisiana border. The storm is moving toward the northwest near 11 mph. Read the full article and see a map of oil facilities in the region.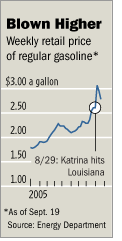 12:40 a.m.: The Wall Street Journal's Chip Cummins in London, Bhushan Bahree in New York and Jeffrey Ball in Dallas report. As Rita barrels through the heart of the U.S. oil industry, the world once again finds itself just a storm away from an energy crisis. Whether or not Rita is that storm, it and Katrina have driven home a hard lesson: In a world straining at the limits of oil supply, even relatively small disruptions can drive prices haywire and ricochet among consumers and companies. The storms have stoked growing unease that the world is vulnerable to even minor supply shocks. And there isn't a quick way to square the circle -- beyond, perhaps, a permanent increase in prices that would chill demand. Read the full article and see a map of oil facilities in the region.
12:15 a.m.: Fox News says Hurricane Rita "to make landfall at any time."
•
Continue back to Friday's Storm News Tracker
•
Continue back to Thursday's Storm News Tracker.
•
Continue back to Wednesday's Storm News Tracker
Compiled by WSJ.com staff from sources including the Associated Press, The Wall Street Journal and Dow Jones Newswires. Edited by Tim Hanrahan.