The Wall Street Journal: Storm's Damage To Energy Plants Appears Limited: "British energy giants BP PLC and Royal Dutch Shell PLC, two of the largest offshore operators, plan to deploy tankers to shuttle oil from their facilities ashore, after they concluded repairs would take months. Shell said it could take well into 2006 before it resumes normal operations.": Monday 26 September 2005
Long-Term Impact Depends
On Returning to Capacity,
State of Underwater Pipes
By RUSSELL GOLD and THADDEUS HERRICK in Austin, Texas, and STEVE LEVINE in Port Arthur, Texas
Staff Reporters of THE WALL STREET JOURNAL
September 26, 2005; Page A1
An unprecedented swath of the U.S. energy infrastructure was shut down over the weekend in the aftermath of Hurricane Rita, but damage appeared limited and the long-term economic impact may be muted.
The second major hurricane in a month to sweep through the abundant oil fields and refineries of the Gulf of Mexico region could send gasoline prices spiking above $3 a gallon, industry experts said, if only temporarily. Natural-gas prices also could rise.
The hurricane compounded the human misery unleashed three weeks earlier by Hurricane Katrina, as districts of New Orleans that had been flooded, and then dried out, flooded again. But, because the brunt of the storm bypassed the giant Houston-Galveston metropolitan area, Rita caused only an estimated $2.5 billion to $6 billion in insured damage, no worse than a third of the amount that Katrina is expected to cost the insurance industry. (Total damages from Katrina have been estimated at more than $125 billion.)
Yet Rita shows just how vulnerable America's energy system has become. With supply and demand shaved to a near-perfect and very fragile equilibrium, the coming days will reveal whether Rita has tipped the system into a supply crunch -- and, if so, how long that crunch will last.
Before Rita approached, the federal government had used most of its big supply-raising tricks in response to Katrina. It had tapped the nation's Strategic Petroleum Reserve as well as stocks from other members of the 26-nation International Energy Agency. And it had waived environmental rules so U.S. refiners could crank out more gasoline.
"The government has played all its cards," said Larry Goldstein, president of the Petroleum Industry Research Foundation, a New York-based group.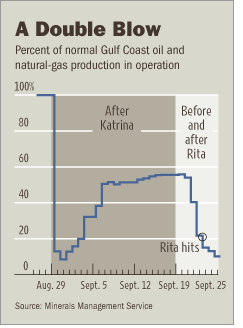 Prices at the pump have fallen in recent weeks from the peaks they reached in the days immediately after Katrina hit. Several analysts predicted Rita could push average pump prices back toward $3 a gallon. Even if prices then fall in November and December -- because of a seasonal drop in demand -- they're likely to remain high and volatile for a long time.
At the very least, said Tom Kloza, chief oil analyst at the Oil Price Information Service, an energy-research firm, consumers pleased at the tempering of pump prices over the past couple of weeks shouldn't be lulled into thinking that prices will fall back in any permanent way. "The all-clear sign was premature," he said.
Two parts of the U.S. energy system will bear watching in coming weeks: production of oil and natural gas in the Gulf of Mexico, and refining along the shore.
In the central Gulf sit rigs responsible for a large portion of U.S. oil and natural-gas production. That chunk of the national energy infrastructure, which is distinct from the eastern-Gulf facilities hit hardest by Katrina, remained largely shut yesterday. The two regions together make up 25% of U.S. oil and natural-gas production.
A big wild card is the underwater pipelines that carry the oil and natural gas onshore. The pipelines in Katrina's path were twisted and pulled by that storm. How those in Rita's way fared remains unclear.
On shore, 27% of the nation's capacity to refine crude oil into gasoline, heating oil and other products remained closed in Rita's wake. This is significantly more than the 10% of refining capacity Katrina shuttered last month, when the national average for a gallon of regular unleaded gasoline rose to a record of $3.07 on Sept. 5, according to the U.S. Energy Information Administration.
Apart from whatever damage the refineries sustained in the storm, just restarting them takes time. So restoring the nation's refining capacity to full strength could take months.
Still, a significant portion of that refining capacity is likely to start back up in the next few days. Because Rita turned north late last week, it spared Houston and its nine refineries. Now, the biggest unknown remains the cluster of refineries around Port Arthur, Texas, and Lake Charles, La. Four other refineries in Louisiana and Mississippi, which together represent 5% of U.S. refining capacity, have remained shut down since Katrina and also sustained heavy damage from flooding from Rita. How quickly those refineries come back online will affect Rita's impact on prices at the pump.
Rita itself could have been worse. In Texas, the biggest problem turned out to be handling the unprecedented evacuation of an estimated 2.7 million people, an effort that produced massive gridlock along roads and highways leading inland. Over the weekend, officials turned their focus to trying to bring evacuees back to the coast gradually -- but evacuees appeared to be streaming back nonetheless.
In New Orleans, Mayor Ray Nagin said he intended to restart his plan to allow some residents to come back to the city as soon as today or tomorrow, but Coast Guard Vice Adm. Thad Allen, who's leading the federal government's response to Katrina, expressed caution about bringing New Orleans residents back to the badly damaged and deserted city.
One major question mark for the energy industry is the metal in the Gulf: the offshore platforms that pump oil and natural gas from underground reservoirs and the underwater pipelines that carry those products to shore. The energy industry is only beginning to assess the damage to that infrastructure from Rita. But the experience of Katrina isn't encouraging. Nearly a month after Katrina, very little damaged infrastructure has been brought back online.
Katrina barreled through the eastern third of the developed portion of the Gulf of Mexico. While production in the central and western Gulf was quickly restored after the storm passed, the eastern section, where Katrina's eye passed through, is still largely out of service. Before repair work was suspended as Rita neared, more than half of Gulf oil output was still closed, nearly three weeks after Katrina.
Far from shore, at least two giant deep-water platforms, Kerr-McGee Corp.'s Red Hawk and ConocoPhillips's Magnolia fields, were in Rita's path. Devon Energy Corp. has a minority interest in both fields. These companies hadn't released information on damage by yesterday.
Companies cautioned that it could take days to determine whether oil and gas production could be brought back online quickly. "It doesn't just depend on our facilities," says Debbie Schramm, a spokeswoman for Kerr-McGee, "but on the condition of pipelines and facilities onshore. Everything has to be running for one thing to work."
Closer to shore, Rita blasted through blocks that produce large amounts of natural gas. Many of these shallow-water facilities, however, are geriatric by modern standards. Two hundred platforms off the coast between Galveston, Texas, and Lake Charles, La., are supported by aging steel legs that are a quarter-century old. Hurricanes Ivan and Katrina sunk nearly 60 similar platforms.
Restarting the Gulf production will require a Herculean effort by an array of shore-based service companies that are already thinly stretched after Katrina. It could take a couple months to repair the pipelines needed to carry oil and gas from deep-water platforms to shore. British energy giants BP PLC and Royal Dutch Shell PLC, two of the largest offshore operators, plan to deploy tankers to shuttle oil from their facilities ashore, after they concluded repairs would take months. Shell said it could take well into 2006 before it resumes normal operations.
The other problem sits onshore: the refineries that turn the oil from the Gulf into usable products like gasoline, diesel and jet fuel.
Four refineries shut down since Katrina hit -- three outside of New Orleans and another in Pascagoula, Miss. -- sustained heavy damage from flooding from Rita. Chevron Corp. says its Pascagoula refinery should be fully operational by the middle of November, perhaps the most ambitious schedule of the four.
The reports from refineries in Rita's path are mixed. Exxon Mobil Corp. said its Baytown refinery, the largest in the nation, suffered only minor scrapes and would restart soon. Shell reported that its two Houston-area refineries were "fully operational" and would begin delivering gasoline yesterday, and it said a key distribution terminal was ready to deliver gasoline "as long as curfews and power supplies permit."
But Valero Energy Corp. said its refinery in Port Arthur, which processes 255,000 barrels of crude a day, or 1.5% of the nation's total, suffered "significant damage" to several components and would take up to a month to restart. Valero reported yesterday afternoon that the refinery still had no power, had some flooding "in low areas of the plant but not in operating units," and had a water-treatment plant with motors "damaged by rainwater."
At the very least, the weeklong process of taking refineries off-line in preparation for Rita and then bringing them back up cost the nation 20 million barrels of crude-oil refining runs, or about three million barrels a day, according to the Petroleum Industry Research Foundation. That's about 20% of the nation's total.
--Chad Terhune and Daniel Machalaba contributed to this article.
Write to Russell Gold at russell.gold@wsj.com, Thaddeus Herrick at thaddeus.herrick@wsj.com and Steve LeVine at steve.levine@wsj.com