The Wall Street Journal: Storm News Tracker: Tuesday September 27, 2005 5:53 p.m.
Note: The Storm News Tracker, which tracked news on Hurricane Rita and the recovery from Katrina, is no longer being updated. Below is the final tracker, and links to previous days. All times EDT.
Tuesday Sept. 27

5:00 p.m.: WSJ.com's David Gaffen reports from New York. The Dow Jones Industrials rallied in the last hour of trading, ending the day up 12 points to 10456. A sharp drop in consumer confidence and sales of new homes weighed on the market. See David's article. Earlier, the confidence index fell to its lowest level in almost two years, weighed down by Katrina and high oil prices. Read full article.
4:45 p.m.: Mobile giant Verizon Wireless says service to Galveston, Texas, has been completely restored and only a handful of cell sites in the Houston area remain out of service. Considerable progress has been made in restoring service to the Lufkin and Jasper, Texas, areas. The network "remains heavily impacted" in the Beaumont, Texas, and Lake Charles, La., areas, with service mostly restored to the city centers and along major highways.

4:35 p.m.: AP video on the hearings is posted. "I guess you want me to be this superhero," said Brown in a tense exchange earlier in the day with Rep. Shays (R., Conn.).
| | |
| --- | --- |
| Refineries map | |
4:22 p.m.: Louisiana Gov. Blanco, with President Bush in Lake Charles, La., said the oil and gas industry was dependent on "a healthy Louisiana." Bush, a former oilman, patted her sympathetically on the back. Blanco added: "I do want to tell you that some things worked right this time; we learned a lot of lessons from our previous experience with Katrina," noting that the communications network stayed up. Read the transcript.

4:20 p.m.: New CNBC-Dow Jones video posted. Is global warming fueling the active storm season? Plus, Entergy New Orleans CEO Dan Packer discusses the Entergy unit's bankruptcy filing.
4:05 p.m.: Crude oil prices eased Tuesday after a robust rally a day earlier, but markets remained concerned over possible shortages in oil products as refineries continued to assess the damage caused by Rita. Light sweet crude for November fell 75 cents to settle at $65.07 a barrel on the New York Mercantile Exchange. It had risen $1.63 Monday.
3:45 p.m.: New Orleans Police Superintendent Eddie Compass resigned after four turbulent weeks in which the police force was wracked by desertions and disorganization in Katrina's aftermath. "I served this department for 26 years and have taken it through some of the toughest times of its history. Every man in a leadership position must know when it's time to hand over the reins,'' Compass said at a news conference. "I'll be going on in another direction that God has for me.'' Neither Compass nor Mayor Ray Nagin would say whether Compass was pressured to resign.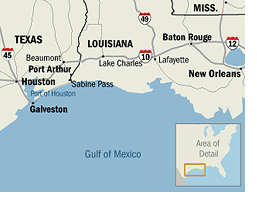 3:05 p.m.: In his helicopter tour of the Texas-Louisiana border where Rita blew ashore, President Bush saw flattened and flooded homes, hundreds of downed trees, extensive roof damage and dozens of stranded and wandering cows. He flew over utility towers that had been knocked over, a Blockbuster video store with windows knocked into the parking lot, a power company worker making repairs and a riverboat washed halfway up onto muddy ground. It was Bush's seventh visit to the Gulf in the aftermath of the two hurricanes that brought widespread damage here in less than a month, but his first personal look at the area hit by Rita.
2:30 p.m.: The Associated Press weighs in on past reporting of horrific crimes. The ugliest reports -- children with slit throats, women dragged off and raped, corpses piling up in the basement -- became a searing image of post-Katrina New Orleans. The stories were told by residents trapped inside the Superdome and convention center and were repeated by public officials. Many news organizations, including the Associated Press, carried the witness accounts and official pronouncements, and in some cases later repeated the claims as fact, without attribution. But now, a month after the chaos subsided, police are re-examining the reports and finding that many of them have little or no basis in fact.
2:27 p.m.: In the devastated small towns of Jasper, Port Arthur and Orange, temperatures climbed well into the 90s again, and elected officials pleaded for more help. "These communities are the last to complain, but they've reached the end," said Rep. Kevin Brady (R., Texas). Meanwhile, authorities in Louisiana were unable to keep bayou residents from venturing in by boat to see if Rita wrecked their homes. Debris was strewn for miles over Cameron Parish, La., a coastal, sparsely populated town next to the Texas line. Seawater pushed as far as 20 miles inland, drowning acres of rice, sugarcane fields and pasture.
2:25 p.m.: The Louisiana Department of Health and Hospitals said 885 bodies of Katrina victims had been recovered, up from 841 as of Friday.
2:00 p.m.: More from the hearing. Former FEMA chief Brown blamed "a hysteric media" for compounding the crisis with what he said were unfounded reports of rapes and murders. Separately, the Los Angeles Times reported in Tuesday's edition that many of the worst reports were unfounded or unproven, echoing a New Orleans Times-Picayune story the day before. Brown also characterized blunt-spoken Army Lt. Gen. Russel Honore, the military coordinator for the disaster, as "a bull in the China closet, God love him." New Orleans Mayor Nagin has praised Honore as a "John Wayne type."
1:50 p.m.: With House Democratic leaders boycotting the Katrina hearing while holding out for an independent investigation, Mississippi Rep. Gene Taylor and fellow Louisiana Rep. William Jefferson were the only Democrats who participated. Both appeared to relish the chance to confront former FEMA head Brown. "You can try to throw as much as you can on the backs of Louisiana, but I'm a witness as to what happened in Mississippi," Taylor told Brown. "You folks fell on your face. You get an F minus in my book.''
| | |
| --- | --- |
| Michael Chertoff | |
1:45 p.m.: Homeland Security chief Chertoff, in prepared remarks to a police-chiefs conference in Florida: "We … owe the American people a full accounting from all levels of government concerning what went right and what went wrong with the initial Katrina response. With Hurricane Rita … two weeks out from Hurricane Katrina, improvements in communication and coordination between levels of government were already evident. But that is only one step in ensuring that we identify the lessons learned from Katrina and make the necessary adjustments." He adds: "And although the images of Katrina and Rita will continue to resonate, we must also be mindful of broader issues. Homeland Security is an all-hazards agency." Full transcript.
1:30 p.m.: President Bush said the priorities were to assist people with food and water, restore power and provide fuel. "We fully understand that it's hard to maintain order if you don't have fuel for your cars and first responders," the president said. After his meeting in Beaumont, Bush was to get an aerial tour of the Texas-Louisiana border area where Rita blew ashore, then meet with Louisiana officials in Lake Charles, La. Read the transcript of Bush's Beaumont remarks.
12:40 p.m.: President Bush surveys damage in Texas with Texas Gov. Rick Perry. "We want people to come home as quickly as possible but we want them to be able to do so in an orderly way," Bush says. Perry adds: "If you're in place that's safe, if you're in a place that's comfortable, stay there." See video.
12:30 p.m.: Brown says that in the days before the storm, he expressed his concerns that "this is going to be a bad one" in phone conversations and e-mails with President Bush, White House chief of staff Andy Card and deputy chief of staff Joe Hagin. Review the National Weather Service bulletins and flash-flood warnings from Monday Aug. 29.
12:07 p.m.: Most of the ports in the Gulf along the Texas and Louisiana coasts resumed operations Monday and Tuesday after Hurricane Rita passed through, with two cruise ships scheduled to dock in Galveston. The Port of Beaumont said it suffered no significant damage, and that it would open when electricity and water services are restored by about midweek, according to the American Association of Port Authorities. More port updates.
12:01 p.m.: Michael Brown, answering questions from Rep. Henry Bonilla of Texas, says he learned about the deteriorating situation at the New Orleans Convention Center on Wednesday, Aug. 31, around noon. He adds, "I'm happy to be called a scapegoat … if it means the FEMA I knew when I came here is … reborn."
11:45 a.m.: Andy Pasztor reports from Los Angeles. Satellite broadcaster EchoStar responded to the twin hurricanes on the Gulf Coast by rushing in extra repair crews, setting up television hookups at nearly 80 emergency shelters in the region and launching a 24-hour, public-service channel devoted to storm-related news. Now, with cable-TV providers predicting it could take them weeks or months to repair their transmission lines, EchoStar officials hope to capitalize on the situation by signing up thousands of new subscribers. See Andy's report.
11:40 a.m.: In exchange with Rep Chris Shays (R. Conn.), Brown says, "I'm not going to sit here and be berated because I'm not Rudy Giuliani."
11:00 a.m.: The New Orleans police chief says 249 officers -- nearly 15% of the force -- could face a special tribunal because they left their posts without permission during Katrina and the storm's chaotic aftermath. Police Superintendent Eddie Compass plans to assemble a tribunal of four of his assistant chiefs to hear each case and sort the outright deserters from those with a legitimate reason for not showing up for work.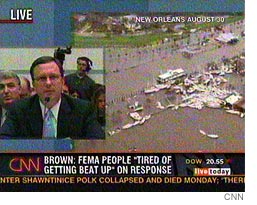 11:00 a.m.: Michael Brown's defense draws a sharp response from Rep. Jefferson Davis (D., La.). "I find it absolutely stunning that this hearing would start out with you, Mr. Brown, laying the blame for FEMA's failings at the feet of the governor of Louisiana and the Mayor of New Orleans.''
10:40 a.m.: More from Brown: "My biggest mistake was not realizing by Saturday that Louisiana was dysfunctional." The storm plowed into the Gulf Coast on Monday morning, and the crisis deepened by midweek.
10:35 a.m.: President Bush arrives in Beaumont, Texas.
10:20 a.m.: Former FEMA chief Brown defends FEMA's performance and his own performance. "FEMA is not a responder. It is a coordinator, it is an honest broker." He defends his knowledge of emergency coordination and criticizes news reports about his background. "I know what I'm doing and I think I do a pretty darn good job at it." Still, he concedes some mistakes. First, he says he should have set up regular briefings to update the press on FEMA's activities, rather than go on news shows. Second: "I regret I was unable to persuade Gov. Blanco and Mayor Nagin to sit down and get over their differences. I just couldn't pull that off."

9:45 a.m.: Updated video. CNBC's Bertha Coombs reports from Texas on damage to the state's oil operations. CNBC's Michelle Caruso-Cabrera describes progress in New Orleans. Lowe's Don Stallings talks about emergency supplies his company has sent to the Gulf Coast. The Wall Street Journal's Gerald Seib discusses the congressional inquiry into the government's response to Katrina.
9:30 a.m.: New Jersey has sued three oil companies and several gas stations for allegedly gouging drivers during Katrina. The lawsuits accuse Hess, Motiva Shell and Sunoco with artificially inflating gas prices and for increasing prices more than the once-a-day legal limit. Independent gas station operators selling Hess, Shell, Sunoco and Citgo brands were also sued.
9:15 a.m.: City Councilwoman Renee Gill Platt, when asked about New Orleans's potential image problem affecting tourism, tells CNN: "I think people who really care about New Orleans will come back and spend their money."
| | |
| --- | --- |
| President Bush | |
8:45 a.m.: President Bush planned to receive a briefing on the Hurricane damage Tuesday in the port city of Beaumont, Texas, where the Spindletop well erupted a century ago and created the Gulf of Mexico's oil boom. After his meeting in Beaumont, Bush was to get an aerial tour of the Texas-Louisiana border area where Rita blew ashore, then meet with Louisiana officials in Lake Charles, La.
8:30 a.m.: Retail gasoline prices should decline in the months ahead, but natural gas prices will stay elevated for a longer period as processing facilities recover from Katrina and Rita, the White House's top economic official said Tuesday. More.
8:25 a.m.: The overall death toll from Rita stands at 10. In New Orleans, the Army Corps of Engineers continues pumping out the Ninth Ward in New Orleans. They expect to have the water gone by the weekend.
| | |
| --- | --- |
| Michael Brown | |
8:15 a.m.: Embattled former FEMA director Michael Brown says he was initially unaware of desperate conditions at the New Orleans Convention Center because it was not a planned Katrina evacuation site, according to a congressional memo. After learning from television about the thousands of evacuees who gathered at the center, Brown ordered food and water be delivered there. But Brown, who today faces a House inquiry into the government's slow response to the Aug. 29 disaster, told congressional aides that "there is no reason FEMA would have known about it beforehand." Brown said he should have sought help faster from the Pentagon after Katrina hit, and accused state and local officials of constant infighting during the crisis, according to congressional aides.
8:05 a.m.: FEMA said it will use taxpayer money to reimburse churches and other religious organizations that have opened their doors to provide shelter, food and supplies to survivors of hurricanes Katrina and Rita, the Washington Post reported on its Web site. FEMA officials said it would mark the first time that the government has made large-scale payments to religious groups for helping to cope with a domestic natural disaster.
| | |
| --- | --- |
| Flooding and power failures threatened medical research stored at the Tulane University Health Sciences Center in New Orleans. | |
8 a.m.: The Wall Street Journal's Amy Dockser Marcus reports. On Aug. 30, one day after Hurricane Katrina hit New Orleans, floodwaters started rising inside the Tulane University Health Sciences Center, and researchers were told the emergency power generators would fail in 90 minutes. Tyler Curiel, chief of hematology and medical oncology, had one key objective before leaving his lab: saving Andy Martin's tumor cells. Read Amy's full report.
•
Continue back to Monday's Storm News Tracker.
•
Continue back to Sunday's Storm News Tracker.
•
Continue back to Saturday's Storm News Tracker.
•
Continue back to Friday's Storm News Tracker.
•
Continue back to Thursday's Storm News Tracker.
•
Continue back to Wednesday's Storm News Tracker.
•
Continue back to the Crisis News Tracker (Katrina, Sept 1-Sept. 12).
Compiled by WSJ.com staff from sources including the Associated Press, The Wall Street Journal and Dow Jones Newswires. Edited by Tim Hanrahan.