Royal Dutch Shell Group .com
The Lawyer.com: The judge who budged: "Laddie's final defining controversy came in June. He became the first judge to resign from the bench in 35 years.": "If you don't enjoy a job, or you don't think you're doing it very well, you just leave.": "Laddie that became unpopular with many IP lawyers who felt harshly judged in his court.": "…his rants are driven by a passionate belief": 10 October 2005

When Justice Laddie decided to hang up his wig to become a consultant at Willoughbys there was much murmuring among the profession. Here he reveals why he is so glad to leave the bench. By Steve Hoare
Mr Justice Laddie has always aroused passions. One particularly bitter IP solicitor recently penned an open letter to Laddie's successor, Mr Justice Kitchin, which is a thinly veiled attack on the former judge. He practically begs Kitchin J not to be like his predecessor.
Sir Hugh Laddie, or even plain old Hugh Laddie as we may come to know him, will no doubt cause just as much outrage for his strident views on the UK judicial system.
But as one solicitor, who has known Laddie for over 30 years, says: "God knows I suffered more in front of him than anyone. But you know what? Normally he was right."
Laddie's final defining controversy came in June. He became the first judge to resign from the bench in 35 years. To make matters worse, he announced that he was joining IP consultancy Rouse & Co, to be based with the firm's UK legal arm Willoughby & Partners.
There was general uproar, much sniping and some undisguised glee. The traditionalists argued that judges were appointed for life and that resigning diminishes the status of the job and its importance to society.
Unsurprisingly, Laddie has little truck with this line of argument. "We decided that we were against slavery quite some time ago," he says. "The theory that judges have to work on as judges is ridiculous. If you don't enjoy a job, or you don't think you're doing it very well, you just leave. Why there should be this black hole into which judges are swallowed and they can't escape… I think it's intellectually barren suggesting it's a job for life. The idea that it demeans the status of the job - it's nonsense."
So that's that, then. Spoken like the highly skilled advocate he is. But why did he resign? The common theory is that he was bored. This is mainly because one national newspaper chose to wrongly quote him as being bored in a headline.
It was no snap decision. Laddie had been thinking about resigning for three years. "I don't think that there was much more that I could do within the limits on the powers of a High Court judge to improve the lot of litigants," he says.
Laddie is passionate about four things more than anything else: his family, fishing, justice and IP. And these are probably in order. But he loved the IP work he was doing at the bench to the very last case. It was the work outside that realm which irritated him. Having to sit on tax cases and landlord and tenant disputes really upset him.
"It's common for judges to say that they like being given new things because they like the variety," he says. "There's variety in being given new things that you know nothing about and have no training in.
"I'm afraid I abhor that thought. It's not a question of what makes judges happy. This is not an exercise in trying to make judges have a whale of a time.
"There are litigants out there who are being advised by specialists who know their stuff. Suddenly, at the pinnacle of a dispute, where you have specialists on both sides, the case will suddenly be put in front of a judge who knows nothing about it. I happen to believe that's not the way to treat litigants. It renders the system less predictable."
This is vintage Laddie. It is the Laddie that became unpopular with many IP lawyers who felt harshly judged in his court. However, on paper the rant seems worse than it is. Laddie is very measured, gentle even. And his rants are driven by a passionate belief that a legal system should treat clients fairly. He simply does not understand why the judge should be the least-qualified person in court to judge a case. "That's not helpful to the proper administration of justice," he insists.
"I have a passionate belief in the legal system delivering the most predictable justice to clients at the least cost and with the least delay," he continues. "I think I did quite a lot of work towards achieving that in my first five or six years on the bench. By the time I'd been there 10 years, I didn't think I was going to achieve much more than I'd achieved already."
This frustration began to manifest itself as irritation. "The one thing that I've always thought was horrible was judges who were irritable with lawyers, and I knew I was becoming irritable with lawyers and I hated that more than you can imagine," he says.
Famously, the one thing that irked Laddie more than anything else was costs. "I used to get unbelievably irritated by the slowness of the legal process and the cost burden on the client," he says.
One of the things that he introduced, two years before it was adopted in the Woolf reforms, was the idea that the judge should immediately assess costs. Laddie introduced this into the Patents Court and it was taken up from there into standard practice.
Of course, the downside of this was that judges could then see how much litigants were being charged. Often, Laddie felt that the sums involved were "ludicrous". His views were crystallised when he was lecturing in India last year, where he met a US judge who claimed that the cost of litigation was just the cost of IP ownership. "I think that a legal system that cannot be afforded by a significant part of the population is not a proper legal system," Laddie states.
This feeling erected another barrier between him and the lawyers standing in front of him. It increased his irritation, leading many to assume he was bitter. Many claim that Laddie is bitter about not being promoted to the Court of Appeal. On the contrary, he made it known to his colleagues that he never wanted to work in the higher court, as it would mean doing even fewer IP cases and more of the cases that irritated him and that he was not qualified to judge. What is more, he does not believe that the Appeal Court is a good way of administering justice. In the conservative world of the law, Laddie is definitely a maverick, but many extend this and presume him a loner.
"Being at the bench is much more isolated than practising in any other form. It's both lonely and in my view disorientating. Every day people come into court and bow to you and call you 'My Lord' and laugh at your bad jokes; and even when they disagree with you they don't say that you're wrong, they just say, 'with greatest respect, My Lord…' and you can believe it," says Laddie.
Fortunately, his wife Stecia is always on hand to keep his feet on the ground. He and his wife met when he was 14 and she was 16. They married in 1970. Stecia, who was a speech therapist and is now a non-executive director of an NHS trust, is a very important influence on his life, as are his three children. He made it crystal clear that his biggest concern coming into this interview was that his outspoken views should not affect adversely the career of his son James, who is a practising barrister at Matrix Chambers.
After 10 years as a judge, when he finally decided it was time to leave the bench at the relatively youthful age (for a judge) of 59, his family had a crucial role to play in helping him choose a new career. The first option he considered was an IP professorship. This was voted down unanimously by his family, which claimed he would be "bored out of his mind".
His name was just about to be put forward to a number of international law firms when he spoke to Willoughbys founding partner Tony Willoughby, a friend of 35 years' standing. Willoughby said that if he was considering moving to a law firm, he would be quite welcome at his. Much to the chagrin of both his accountant and headhunter, within 30 seconds Laddie had agreed.
"I knew enough about this practice to know that it's client-friendly, in the sense that it doesn't appear to have the objective of squeezing as much money as possible from clients. I knew Tony, I knew about his departure from Herbert Smith and I knew about the type of firm he was trying to set up," says Laddie.
He is going to work in arbitration and alternative dispute resolution, a role that he believes will help people resolve their legal disputes in an efficient and cost-effective manner. He thinks of it almost as an extension of his work as a judge. "I never used to be a fan of arbitration, but you get a result and there's no appeal. Bang," says Laddie.
That was not always the case. Before joining the judiciary, he spent seven years involved in a "very poorly-run" arbitration between Pilkington and PPG.
"Arbitration isn't the answer to everything," he says. "Unlike going to court, you're paying for your judge. You're paying for your court. There are downsides to arbitration, but properly run, when you have the same dispute in a number of countries, arbitration makes sense."
Laddie will lecture abroad and he expects that he will be able to help other people in the firm on cases, although he joins as a consultant. He is not going to requalify as a solicitor or hold himself up as a practising barrister.
"I know some people were worried that I was going to try and go back into court and be an advocate. I have no desire to do that and I think that it would only demonstrate that I needed to be taken out and shot if I were to suggest doing it. Being a barrister is tough work and good fun, but it's something you need to keep in training on. I've been out of training for 10 years and it wouldn't be appropriate for me to appear in front of my old judicial colleagues," he says.
And while it is his very first day, he seems to have settled in to his new surroundings very well. He is dressed down in slacks and an open-neck shirt. With a bit of encouragement from his new colleagues he hands over his new business card, which he endearingly calls a "visiting card". It simply reads "Hugh Laddie", with no 'Sir' in evidence.
"I couldn't care less about the title. Judges do not need an automatic title. If there's any honour - and there is an honour in being made a judge - it's the honour of being made a judge. No other mark is necessary. If they wanted to take the title away, it wouldn't worry me at all," says Laddie, outspoken to the end.
And so he begins his new life. No longer Mr Justice Laddie. Just Hugh Laddie, consultant, Rouse & Co. n
Section: In-Depth Analysis Date: 10-Oct-2005
Author: Steve Hoare Source: The Lawyer

ARTICLE ENDS
RELATED ARTICLE ABOUT HIS FRIEND OF 35 YEARS
http://www.nominet.org.uk/DisputeResolution/Experts/TonyWilloughby.html
Tony Willoughby
---
<![if !vml]>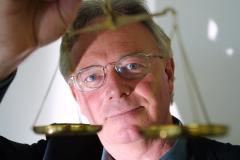 <![endif]>Professional Experience
Tony qualified in 1970 and worked in the Trade Marks Department of The Distillers Company Limited (now part of Diageo) until joining Herbert Smith in 1973. He became a partner in 1977 and remained there until 1994 when he left to join Rouse & Co (now Willoughby & Partners) He has specialised in all aspects of intellectual property (contentious and non-contentious) since he was admitted to practice. He has had the conduct of some patent infringement actions, but most of his work has been in the field of trade marks, passing off, copyright and confidential information. He has particular experience of parallel imports/grey market and anti-counterfeiting litigation, and the Anton Piller Order and Mareva Injunction.
Tony has acted in a variety of leading reported IP cases and is a panellist for the WIPO ICANN and Nominet UK domain name dispute resolution procedures. He has also been appointed Chairman of Experts for Nominet UK
Professional qualifications
Admitted to the Roll of Solicitors in England and Wales
Professional memberships
ITMA Ordinary Membership
Fellow of the Society for Advanced Legal Studies
London Solicitors Litigation Association
TIPLO
Personal Interests
Relaxed
Click here for ShellNews.net HOME PAGE