COMPANIES

PRICE
CHANGE
U.S. dollars
56.31


0.71


10/28





PRICE
CHANGE
U.S. dollars
62.80


0.00


9/30





PRICE
CHANGE
U.S. dollars
57.38


0.88


10/28





PRICE
CHANGE
U.S. dollars
43.98


0.80


10/28





PRICE
CHANGE
U.S. dollars
45.90


0.49


10/28





PRICE
CHANGE
U.S. dollars
34.05


0.47


10/28





PRICE
CHANGE
U.S. dollars
25.53


0.68


10/28





* At Market Close
THE WALL STREET JOURNAL: Backlash Spreads As Profits Surge At Oil Companies: "Exxon, Shell Net $19 Billion, Fueling Calls for Profit Tax, Efforts to Boost Stockpiles": "If there are those who abuse the free enterprise system to advantage themselves and their businesses at the expense of all Americans, they ought to be exposed, and they ought to be ashamed,": Posted Saturday 29 October 2005
Exxon, Shell Net $19 Billion,
Fueling Calls for Profit Tax,
Efforts to Boost Stockpiles
By JEFFREY BALL in Dallas, JOHN J. FIALKA in Washington and RUSSELL GOLD in Austin, Texas

Staff Reporters of THE WALL STREET JOURNAL
October 28, 2005; Page A1
As high fuel prices roil consumers and Congress considers a variety of measures to ease the impact, Exxon Mobil Corp. and Royal Dutch Shell PLC, the world's No. 1 and No. 3 oil companies, weighed in with record third-quarter earnings that totaled almost $19 billion.
Riding a wave of high prices for oil, gasoline and natural gas, Exxon reported third-quarter net income of $9.92 billion, up 75% from the year-ago period, on revenue of $100.72 billion. It was among the biggest quarterly profits of any company in history, and amounted to a per-minute profit of $74,879.23 during the quarter. A handful of other companies have posted higher quarterly earnings in the past, but only with the help of big accounting adjustments, while Exxon's results came mostly from operations.

MORE ON EARNINGS
CONFERENCE CALL
Shell, the third largest oil company by market value behind Exxon and Britain's BP PLC, said its third-quarter net income rose 68% to $9.03 billion, on $76.44 billion in revenue. Like Exxon, its profit came mostly from operations.
The companies' combined quarterly revenue of $177.16 billion exceeded Denmark's economic output last year.
Signaling its awareness of the sheer size of the numbers and the resulting political concerns about how companies are benefiting from higher energy prices, Exxon ran an advertisement yesterday in some newspapers acknowledging that its earnings "are indeed at a record high" but arguing that "oil earnings are not out of step with other major industries."
Yet political pressure visibly built yesterday. Sen. Bill Frist (R., Tenn.), the Senate majority leader, asked the chairmen of three Senate committees to investigate high energy prices and said he might support a federal anti-price gouging law. "If there are those who abuse the free enterprise system to advantage themselves and their businesses at the expense of all Americans, they ought to be exposed, and they ought to be ashamed," he said in a statement.
Meanwhile, Energy Secretary Samuel W. Bodman told a Senate panel the Bush administration is considering taking steps to create a stockpile of refined products like gasoline, diesel and jet fuel. That could include requiring the industry to set aside stocks of a variety of fuels that could be tapped in future crises. Industry officials said they oppose the idea, citing the expense and saying it could take badly needed fuels off the market, leading to higher prices.
Mr. Bodman also called for the industry to boost spending on refining to ease a capacity crunch that has contributed to a surge in prices for fuels refined from crude oil. He said the administration isn't considering a federal windfall-profit tax on the oil industry, similar to one the U.S. imposed during the 1980s, that has drawn recent attention on Capitol Hill. Yet industry officials remain nervous, because the political backlash against high fuel prices and oil-company profits appears to be forging an alliance between Democrats and Republicans that, particularly with President Bush's public support eroding, could give the idea momentum in Congress.
Industry officials say politicians are rushing to judgment. They argue that the oil business is cyclical, that over the years they have invested in new production when commodity prices have been far lower than today, and that even increased investments in new capacity today won't yield more oil and gas for several years.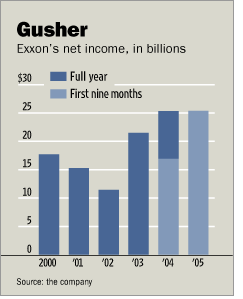 There's no quick fix for today's energy crunch, which was years in the making. Energy companies were already benefiting from rising demand for oil from both from developed countries and rapidly growing nations like China and India, and the world's inability to pump oil any faster. Meanwhile, increasing natural-gas demand and years of underinvestment in the underlying infrastructure have led to tightened North American gas supplies. Then hurricanes Katrina and Rita swept through the Gulf of Mexico, curtailing offshore production and bringing many of the region's refineries to a halt, leading to a surge in prices.
The price of a gallon of regular unleaded gasoline averaged $2.60 nationwide this week, down from a peak of $3.07 the week of Sept. 5 but still up 28% from $2.03 a year ago, according to the federal Energy Information Administration. Natural-gas prices have nearly doubled over the past year; the EIA projects that owners of gas-heated homes should see a 48% rise from last year's already high prices this winter, while owners of homes heated by heating oil could see their bills rise 32%. (See related article.)
To be sure, legislative efforts to curb the impact of high energy prices could falter. Congressional Democrats have tried to increase funding in the fiscal 2006 budget for the Low-Income Home Energy Assistance Program, which helps defray home-heating costs to consumers who can't afford to pay the bill, to $5.1 billion from $2.2 billion. But concerns about increasing spending amid mounting budget deficits have stymied the effort. Yesterday, some Democratic senators called for oil companies to donate a portion of their profit to energy assistance.
In a written statement that accompanied Exxon's earnings release yesterday, Lee Raymond, its chairman and chief executive, didn't mention the result was a record. Instead, he pointed out that the figure included "the impacts from hurricanes Katrina and Rita, two of the most significant U.S. natural disasters in recent history," stressed that his company "acted responsibly" in pricing gasoline at company-operated filling stations in the wake of the storms, and cautioned that "reduced volumes and higher costs" will "impact" Exxon's earnings in the fourth quarter.
"A policy maker, they operate on time frames of two, four and six years. We operate on time scales of a decade or more," said Kenneth Cohen, Exxon's vice president for public affairs. The long-term solution to the energy crunch, he said, is opening up new areas of the U.S. to energy production. "Rather than rush to what appears to be an attractive political solution, let's make sure we're making solutions that will prove to be viable in the longer term."
In the nearer term, the Bush administration is looking at creating a system of regional storage facilities for a variety of processed fuels -- a variant on the Strategic Petroleum Reserve, which holds unprocessed crude oil. Mr. Bodman told a Senate committee yesterday that "it's something that ought to be considered" as a way to prevent future supply crises, although he also said "the mechanics of doing it is a formidable challenge."
The idea already faces an uphill battle with a key ally: the oil industry. Donald Campbell, a spokesman for Chevron Corp., the second-largest U.S. oil company, called the idea a "costly and ineffective response" to supply disruptions. He said Chevron would rather see Congress remove barriers to developing more refining capacity, an idea that stalled in a Senate committee earlier this week. The American Petroleum Institute, an industry trade group, estimates that it would cost between $12 billion to $15 billion to build up a five-day supply cushion of fuels and construct as many as 1,500 tanks.
The Bush administration's concept is similar to a reserve of refined products kept by European nations. Following Hurricane Katrina, the International Energy Agency helped coordinate the release of 11 million barrels of gasoline, as well as crude oil, diesel and heating oil, from the reserve. This helped drive down gasoline prices from above $3 a gallon.
Exxon's net income amounted $1.58 a share, compared with 88 cents a share in the year-earlier period. The third-quarter results included a special gain of $1.6 billion from a restructuring of the company's interest in Dutch gas-transportation concern Gasunie. Combined oil and natural-gas production in the quarter fell 4.7%.
Howard Silverblatt, equity market analyst for Standard & Poor's, said Exxon made more money in the third quarter than all but eight companies in the S&P 500 made all of last year. One of those eight was Exxon itself. The others: Bank of America Corp., Chevron, Citigroup Inc., General Electric Co., Microsoft Corp., Pfizer Inc. and Wal-Mart Stores Inc.
Shell net income amounted to $1.35 a share, up from 79 cents a share a year earlier. Shell's results, which conform to international financial-reporting standards instead of U.S. generally accepted accounting principles, were bolstered by special net gains of some $1.57 billion, including a $1.77 billion gain from the sale of pipeline assets in the Netherlands. Shell said total oil and gas production fell 11%.
--Chip Cummins in London contributed to this article.
Write to Jeffrey Ball at jeffrey.ball@wsj.com, John J. Fialka at john.fialka@wsj.com and Russell Gold at russell.gold@wsj.com