THE WALL STREET JOURNAL: Top Oil Executives Defend Gas Prices Amid Scrutiny: Thursday 10 November 2005
By JOHN J. FIALKA

Staff Reporter of THE WALL STREET JOURNAL
November 10, 2005; Page A4
WASHINGTON -- Top executives from five major oil companies told Congress that federal legislation to prevent gasoline price gouging -- an idea drawing increased interest from lawmakers -- could result in shortages and long lines at gas stations in times of crisis.
However, attorneys general from three states told a joint hearing of the Senate Commerce and Energy committees that price-gouging legislation is needed to prevent the kind of unusual and sharp gasoline-price increases that followed the Gulf Coast hurricanes.
QUESTION OF THE DAY

•

Vote: Do you think oil companies unfairly profited from higher oil prices this year?



ON THE HOT SEAT




Witnesses scheduled to testify at the Joint Hearing with the Senate Commerce, Science and Transportation Committee regarding Energy Pricing and Profits. Click on the name for their prepared testimony.
Lee Raymond, chairman and chief executive of Exxon Mobil Corp., told lawmakers that dealers and refiners faced a "tough balancing act" in the aftermath of hurricanes Katrina and Rita, which ravaged the Gulf Coast and disrupted energy production and distribution centered in the region.
Mr. Raymond said his company cautioned its distributors to "minimize [gas-price] increases," but at the same time gave dealers the flexibility to set prices high enough to "ration" existing supplies. "Shortage is a disaster and we don't want to go there," he said.
Deborah Majoras, chairman of the Federal Trade Commission, also spoke against a price-gouging law, saying higher prices helps prevent panic buying and hoarding, and encourages suppliers to send more fuel into the affected markets.
Just where Congress may go with the issue of price gouging remains an open question. For the past four weeks, gasoline prices have fallen to levels lower than they were before the hurricanes, averaging $2.38 per gallon of regular this week after soaring above $3 following Katrina. Several Republican senators noted that concerns linger about gasoline. They worried about diesel-fuel prices, which remain high, and about home-heating-oil and natural-gas prices, which are at or near record highs with little price relief in site.
WALL STREET JOURNAL VIDEO

•

Exxon Mobil CEO Lee Raymond testifies at the Senate hearing.



•

William Niskanen of The Cato Institute and Roger Diwan of PFC Energy discuss improving U.S. energy policy.



•

Sterling Burnett of The National Center for Policy Analysis and Tyson Slocum of The Public Citizen's Energy Program discuss the hearings.



•

Oppenheimer senior energy analyst Fadel Gheit and Platts Global director of oil John Kingston discuss oil profits.



•

Sens. Ron Wyden (D., Ore.) and Craig Thomas (R., Wyo.) debate the merit of a "windfall profits" tax on oil companies.



•

Sen. Byron Dorgan (D., N.D.) explains why he supports taxing oil companies.



•

WSJ's Gerald Seib and AutoNation CEO Mike Jackson discuss the congressional probe into "price gouging" by oil companies.



•

WSJ's Alan Murray talks about whether the government should impose regulations on big oil companies.


"There is a growing suspicion that oil companies are taking unfair advantage of the current market conditions to line their coffers," said Sen. Pete V. Domenici, (R., N.M.), chairman of the energy panel. A new national poll taken by NBC and the Wall Street Journal shows 58% of Americans would support a federal price-gouging law.
Arizona Attorney General Terry Goddard said some of the public's suspicions appear to be well-founded. Service stations in his state raised their prices well above the national average after Hurricane Katrina in ways that state investigators found "speculative and arbitrary." Most of the state's gasoline comes from refineries in California, which weren't hit by the storm, he said.
The state found retailer profits tripled during the crisis, Mr. Goddard said, but investigators said that Arizona's laws that required proof of price collusion or consumer fraud proved to be ineffective in their probes.
South Carolina Attorney General Henry McMaster told the committees his office is investigating seven stations that charged as much as $4.79 a gallon after the hurricane.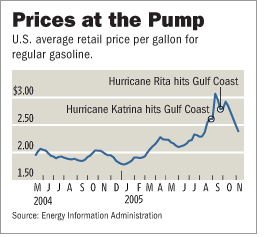 South Carolina doesn't have a price-gouging statute that imposes criminal penalties. New Jersey law requires the governor to find a disaster before it can attack price gougers. Peter C. Harvey, the state's attorney general, said his office has brought charges of predatory pricing at 31 stations, but the laws carry low fines, some of which were set in the 1930s.
All three attorneys general said they would support a federal price-gouging law that would be triggered by a White House finding of a national emergency, if it didn't preempt their investigations.
David O'Reilly, chairman and chief executive of Chevron Corp.; James Mulva, chairman and chief executive of ConocoPhillips; Ross Pillari, a North American executive at the U.S. unit of BP PLC; and John Hofmeister, president of the U.S. operations of Royal Dutch Shell PLC, also spoke.
Write to John J. Fialka at john.fialka@wsj.com