How to manage mature production provinces, both globally and in the North Sea, while meeting rising hydrocarbon demand framed discussion at the 2005 Offshore Europe Oil and Gas Exhibition and Conference in Aberdeen. Attendance at the biennial event, held 6–9 September, surpassed 30,000, breaking the previous attendance record of 26,337 in 2003.
The conference offered a strong plenary and technical program, evident in the opening general session—titled "Reserves Recovery and Decline: A Global Perspective"—that featured a global who's who in the oil and gas industry. Leading off the session was Andrew Gould, Chairman and Chief Executive Officer of Schlumberger, who also chaired this year's Offshore Europe conference. Gould contends that the world has enjoyed a false sense of energy security because of the excess oil production in the late 1980s and the 1990s. "Today, rapid demand growth due to the emergence of China and India and a lack of investment in an aging production base and refining system have led to very little security of supply of crude oil, natural gas, and refined products," he said.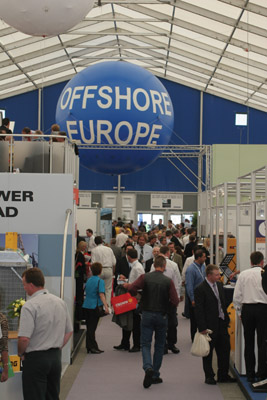 The exhibition featured 1,661 companies.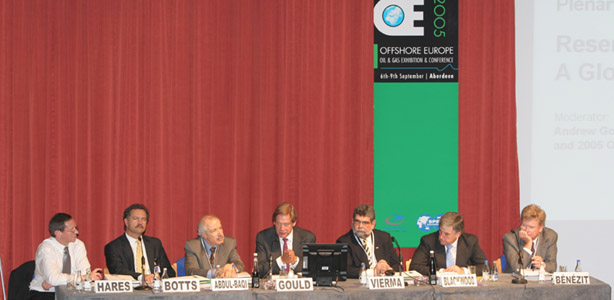 Panelists at the opening general session included, from left, Nigel Hares, Executive Vice President, Frontier and International Operations, Talisman Energy; Tom Botts, Executive Vice President-Europe, Shell Intl. E&P; Mahmoud Abdul-Baqi, Vice President Exploration, Saudi Aramco; Andrew Gould, Chairman and CEO, Schlumberger; Luis Vierma, Vice President E&P, PDVSA; Dave Blackwood, Director and Business Unit Leader–Developing Assets Business Unit, BP; and Michel Benezit, Vice President Northern Europe, Total.
A New Era
Gould agreed with other panelists in the opening plenary that hydrocarbons will be the fuel of choice for perhaps decades to come, but that development and production have entered a new phase. "Reserves are large but finite, operations in new areas are becoming even more technically complex, and nonconventional hydrocarbons will form a larger part of the production base" in the future, he said. Principally, production decline rates in mature basins are growing in significance. "We are moving into a period where the bulk of new developments will either be in deep water or harsh Arctic conditions, or in the hands of national oil companies," he said. "Technology will continue to emerge for finding and development; however, we will also see a huge increase in technology developed to increase production from mature fields and, therefore, prolong the production plateau or slow the rate of decline."
Mahmoud Abdul-Baqi, Vice President of Exploration for Saudi Aramco, outlined the challenges facing the industry as it strives to develop additional reserves to meet global consumption. "The main challenge is to commit the capital to develop reserves," he said, and that investment needs to be made now. Regarding technology, greater emphasis should be placed on tools that expand the reserves base and drive down the cost of development. Producers need technology that promotes more accurate imaging of reservoirs, enhances automated field surveillance, and allows for faster drilling, Abdul-Baqi said.
"There is no real physical shortage of oil," Abdul-Baqi said, contradicting proponents of the "peak oil" argument. In particular, he said, large areas of Saudi Arabia are unexplored, and the country's exploration program is expanding. In addition, the kingdom will continue to maintain spare production capacity of 1–2 million BOPD. The robust outlook for oil and gas will create numerous opportunities for young professionals, who should be recruited by the industry aggressively, he said.
An officer of another national oil company and OPEC member offered an upbeat assessment of the industry tinged with caution as well. Luis Vierma, Vice President of E&P for PDVSA, the national oil company of Venezuela, said exploitation of extra-heavy crude oil reserves could make that country the largest producer of hydrocarbons. Venezuela has approximately 77 billion bbl of proven conventional oil reserves and another 270 billion bbl of extra-heavy and bitumen deposits. In addition to focusing on new production, the industry must also take a look at global refinery capacity that will be needed to turn that oil into consumer products such as gasoline, he said. Product demand may soon outstrip refinery capacity, and it takes years to build a new refinery.
Rethinking the Upstream/Downstream Split
Tom Botts, Executive Vice President-Europe for Shell Intl. E&P, also noted the increasing importance of downstream elements in upstream operations. More resources are being found that are unconventional and require downstream processes to turn those resources into synthetic oil, he said. "We have to be prepared to blur the traditional upstream/downstream split," he added. Despite declining production in the North Sea, Botts said he was optimistic that technology would prolong the region's potential. "Our industry has a good track record of outperforming expectations in the North Sea," he said.
Offering an independent's perspective, Nigel Hares, Executive Vice President, Frontier and Intl. Operations for Talisman Energy, called attention to the growing importance of independent operators in the North Sea. The Canadian company has become one of the leading operators in the region. Big companies should handle big projects, and smaller companies should deal with smaller projects, he said. That is what is happening in the North Sea and in other provinces globally—as a basin matures, the opportunities drop, and smaller companies take on a greater role.
At the close of the opening plenary, U.K. Energy Minister Malcolm Wicks announced the results of the latest North Sea bidding round. The government awarded the greatest number of exploration licenses (152 covering 264 blocks) in U.K. history, including 24 new entrants to the region. That proves that the North Sea, despite declining output, is being revitalized as new technologies and government policies combine to make the area attractive to investment. ExxonMobil received 1.2 million acres, the largest single license award in U.K. history. Those 20 contiguous blocks are in the relatively unexplored Mid-North Sea High area. Shell owns a quarter of the joint venture.
In a separate plenary, titled "Delaying the Production Peak," Robert C. Olsen, Chairman and Production Director for ExxonMobil Intl., laid out the future supply/demand balance and the importance of technology in that scenario. World oil and gas production is currently declining between 4 and 6% each year. That decline, combined with demand growth, means that the amount of new production needed by 2030 will exceed today's total production, he said. Approximately 60% of the energy supply in 2030 will come from oil and gas.
The Challenge of Development
The industry generally underestimates its ability through technology to lower costs and increase production, Olsen said. But if recovery efficiency is increased by only 1%, that would equate to 80 billion additional barrels of conventional oil, or more than 2 years' worth of production at today's rate. "Our challenge is not the availability of oil and gas resources—they are available," he said. "Our challenge is development: Ensuring that we have access to the resources, stable fiscal terms, and effective technology so that we can efficiently develop these resources while minimizing our impact on the environment."
Many in industry and government estimate that North Sea production to date—approximately 34 billion BOE—is only half of its potential. The region is a high-cost area in which to operate and will have to compete with other basins around the world. Developing the North Sea's potential "will be more difficult and more expensive on a unit basis," Olsen said. The industry must leverage the value of existing infrastructure, governments must foster a favorable business climate, and the right technologies will have to be deployed, he said.
Several technologies in particular have dramatically added to the world's oil and gas reserves over the past 25 years and will continue to play a key role in future development, according to Olsen.
Improved seismic has greatly enhanced the dry-hole/discovery ratio and helped recovery in mature basins.

State-of-the-art visualization centers are allowing geoscientists and engineers to work together to optimize development plans.

Improved reservoir and geological modeling have improved the chances of determining the best well locations and well designs to maximize recovery.

Advances in directional drilling have enabled the industry to hit reserves with great accuracy. Extended-reach drilling is playing a critical role, for example, in ExxonMobil's Sakhalin 1 oil and gas project.

Deepwater-development advances are bringing on line several new production provinces.

Liquefied-natural-gas technology is rapidly changing the landscape, with gas markets now becoming global in nature.
Offshore Europe also hit a record for number of exhibitors. The 1,661 exhibiting companies, included operators, service companies and national oil companies. In all, 107 countries were represented at the show either as exhibitors or visitors.