Royal Dutch Shell Group .com
The Mayo News (Ireland): The Interview - Maura Harrington: In the eye of a storm: One of the strongest and most doggedly unrelenting voices in the Shell campaign has been Maura Harrington's: Wednesday 7 December 2005

Interview by Stephen O'Grady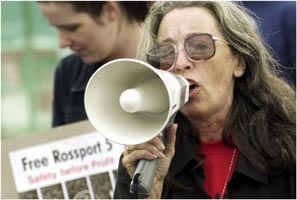 Maura Harrington:
Shell-to-Sea Campaigner
SHE did not seek it, nor was she appointed its mouthpiece, but long before martyrdom was thrust upon five men from north Mayo, Maura Harrington was the face of the resistance.

On the June day that the imprisonment of the Rossport Five introduced the Corrib saga to a new and wider audience, she was in Holland, trying to impress on Shell shareholders the terrible reality that was being brought to bear on Ireland's west coast. She addressed the Shell AGM in The Hague in late June, but Shell executives merely stressed the imminent benefit to the Irish economy and the promise of a greater return for its shareholders.
Similar sentiments were expressed to her in 2004 when she similarly confronted the Shell AGM in London, and had the audacity to come back on its president on a point of order during the course of the meeting. One representative of the multi-national is said to have dashed for the airport when this diminutive schoolteacher from near Geesala dropped a particularly awkward question into the ointment.

What is it that drives Maura Harrington to such apparent excesses? At the end of a 90-minute exploration, we have it down to abiding characteristics: love of knowledge and pride of place. There is also the ancestral trait that courses through her blood. 'Muinhin cointeann' she has labelled this secret ingredient. 'Cointeann', she giggles, is an awkwardness and 'one of my ancestors out there in Muinhin had a fair degree of it'.

She has just stepped out of 'the trailer', otherwise known as Shell-to-Sea HQ in Bangor, for the day and has sat down to consider another raft of information on the saga that has become her life. She gestures towards the Belmullet road with the words 'out there' to pinpoint Muinhin.

"I never accepted a given as a given until I was satisfied that it was," Maura Harrington begins to explain the temperament that arguably has frustrated the Shell suits more than any other over the past five years. As a boarding student at Gortnor Abbey Secondary School, this characteristic was gloriously honed and developed by discursive education methods, which wandered from the straight and often narrow path of the curriculum. It was not unusual for students to attend plays and exhibitions or to sit down in a circle and analyse why one washing powder washed whiter than another. It invested in her a desire to ask questions, and a capacity to deconstruct a subject until it was broken down to its essential constituents. It's a principle that she has applied assiduously to the new wave of learning that has swept through her life since she first attended a meeting in a Pullathomas pub in May 2000.

"It is the way I would have tackled the volumes of stuff," she says, holding her latest folder. "It reminds me of second year at second level, lovely presentation and things beautifully laid out, but not an awful lot of content."

After two years of teacher training at Carysfort College she delighted in her return to the home soil of Tallaghan, ten miles from early-70s Bangor Erris. She took up a teaching post at Inver National School, perched on beautiful Broadhaven Bay, where she has remained for 33 years, where her own teaching methods have used traditional structure to get the best out of the pupil.

"People who learned their tables off by heart never forgot them," she elaborates with fervour. "But as well as learning [by rote] I think they also developed the capacity to remember a lot more than just the tables. It also works in terms of song and story. People who have a strong oral tradition, I think their memory is a lot better. They have that capacity for memory. It's not visually based so it doesn't just go in snatches."

The barony of Erris is blessed with this capacity, she contends, and in many ways this knowledge baseline has not only underpinned the resistance to Shell's Corrib gas ambitions, but has fed this resistance with an intelligence that Maura Harrington believes has not been put up to Shell elsewhere.

"It was personal that they should, in the first place, consider the people to be of such negligible worth that they really didn't matter," she says. "What is encouraging is that they really did pick the wrong time. There were still and are still enough people here to not have been softened by an overburden of debt and the consumerist type of thing that you must have your two holidays a year, you must have this and you must have that. And we're people who like the place."

There is a tingle of emotion in her voice as she retraces a six-year timeline to a day during the summer of 2002 when exploration machinery was planted in the bay and began poking at Glengad beach. The raw emotion is more visible in her eyes, as she explains the physical pain this sight inflicted on her, and the heartfelt manner that this reminded her of how much she loves this place.

"A lot of the places they [Shell] have been in did not have the wherewithal to protect themselves. But now they're trying it on in places like this and this is where they have come up against a strength of purpose and a unity of purpose," her determined tone is unyielding.

"Shell may have thought that by choosing the five men they may have been weakening leadership, but they don't understand what creates the dynamic. And the reason that they don't understand it is because they don't understand the place. Because a place like this and its people are interchangeable."

These are the people she meets each morning after she rises at seven and journeys with her Leaving Cert son to 'the trailer' in Bangor. The lessons of the Rossport Five have taught her teenage son and his peers, she suggests, that because it is the outside way doesn't mean that it is a better way. These are also the young people she teaches each day, children who will carry the memory of the Rossport Five with them into adulthood. These are the people she meets again when she returns to 'the trailer' after school, the core group of protestors, the sum of whose parts she describes as an 'unquantifiable dynamic'.

Many of these faces she first put names to in the summer of 2000 when she printed out six questions for a preliminary information meeting on the gas project in Pullathomas, after hearing about it in the school.

"I went quite literally knowing nothing about it, and of course left there none the wiser." She recalls looking out of her kitchen window around this time and wondering at how convenient it might be to have gas piped into the back yard. The recent provision of a water supply from Carrowmore Lake offered what turned out to be a tame context for locals to measure the gas project against. She needed to know more. She took an interest in the initial Enterprise Oil application in November 2000, which she describes in hindsight as an 'information-gathering escapade', but she was involved by the time the second application went into Mayo County Council in April 2001. Around that time her ears had pricked up when a statistic comparing gas emissions to emissions by 27,000 cows was meted out at another meeting in a Barnatra pub. Her doubts about the demeanour of one gas expert who attended another information meeting in Glenamoy in April 2001 were confirmed when she heard the same individual seemed to undermine the intelligence of local residents at a subsequent meeting of the Council for the West. A certain attitude was looming.

She says that the energies she has burned up during the past five years have not impacted negatively on her personal life. Despite hard times and tough times - and she has been the victim of some personal affronts - she admits to being extremely invigorated by it all. She has thought long and hard about this world of turmoil that has visited so many ordinary lives.

"Are we living in a society or an economy?" she ponders. The Corrib gas controversy provides the acid test for this question. It provides an inestimable background for a blueprint for the future of the country's planning process, she suggests. And it has provided an apt replacement for the 'leisurely masters' she was planning to do upon her retirement from teaching.

"That will never happen, because what Shell has done is they have changed everybody's life directions."

Click here to return to ShellNews.net HOME PAGE