THE WALL STREET JOURNAL: Conoco Purchase May Start Spree Of Energy Deals: "As for buyers, European energy giants Royal Dutch Shell PLC, Total SA and BG Group PLC all could be hankering for an extra serving of North American gas this holiday season, say energy-industry observers.": "...though Shell executives have all but ruled out a $10 billion or larger acquisition, saying it would be hard to find an attractive big target at today's valuations.": Tuesday 13 December 2005
By RUSSELL GOLD

Staff Reporter of THE WALL STREET JOURNAL
December 13, 2005; Page C1
Who's next?
ConocoPhillips's $35.6 billion cash and stock deal to acquire Burlington Resources Inc. could jumpstart a wave of consolidation as cash-rich energy companies snap up smaller natural-gas producers, according to energy analysts and investors.
Burlington is one of several midtier companies that have substantial gas holdings in North America. With natural gas trading near all-time highs in the U.S. and a tight market expected in the fuel for some time, these companies are all potential acquisition targets. Other names to watch include EOG Resources Inc., XTO Energy Inc. and even smaller companies like Southwestern Energy Co. and Ultra Petroleum Corp.
As for buyers, European energy giants Royal Dutch Shell PLC, Total SA and BG Group PLC all could be hankering for an extra serving of North American gas this holiday season, say energy-industry observers. And all have plenty of cash to do a deal, though Shell executives have all but ruled out a $10 billion or larger acquisition, saying it would be hard to find an attractive big target at today's valuations.
Exxon Mobil Corp. certainly has the balance sheet to buy but has sniffed at making acquisitions with oil and gas prices so high. Chevron Corp. likely will sit on the sidelines since it is still absorbing its $18 billion acquisition of Unocal Corp. Still, the company is in a strong financial position, and executives say the integration is moving quickly.
Other potential buyers include large energy-exploration companies called independents because they don't have refining and marketing operations. Names include EnCana Corp., Devon Energy Corp. or Anadarko Petroleum Corp., although these companies already have big gas positions and could attract the interest of a larger suitor as well.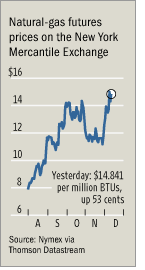 The potential targets all have large inventories of drillable natural-gas wells in what the industry calls "unconventional" fields. These are fields where the gas is trapped in tight rock formations. The fields are typically tapped by low-risk wells that cough up most of their gas in the first couple years but then continue to produce for years. Making these unconventional fields economic requires drilling hundreds of wells, so the target companies would hold large acreage positions like Burlington.
EOG Resources and XTO Energy fit the bill and have a market capitalization between $15 billion and $20 billion. So do Southwestern Energy and Ultra Petroleum, though their market cap is in the $5 billion to $10 billion range.
Another possible acquisition target: Williams Cos., says Bill Gerlach, who runs the Gartmore Global Natural Resources Fund. After a serious liquidity crunch several years ago when energy trading imploded, Williams has repositioned itself as a natural-gas exploration company with numerous interstate-pipeline assets. Mr. Gerlach has an interest in seeing Williams get acquired; the fund owns about $1.2 million of Williams's stock -- or 4% of the portfolio. He isn't alone in this sentiment. The stock closed up 4% yesterday. Williams spokesman Kelly Swan said, "We are entirely focused on growing the company ourselves."
Pioneer Natural Resources Co. also saw its stock price climb 4% yesterday, largely on expectations that it could be swallowed up.
Driving this expected clutch of M&A deals is the tight market for gas in North America. Natural gas is used to heat a majority of U.S. homes, generating about one-fifth of U.S. electricity. U.S. domestic production has stalled, even as the growing economy increased demand.
Furthermore, there isn't much natural gas available for import from overseas right now.
Big Oil has largely ignored unconventional fields until the past few months, focusing instead on megaprojects around the world. Now seeking to get back into North American natural-gas production, the companies have found the best acreage already locked up.
To execute an unconventional drilling program, "you need acreage and lots of running room. If you don't have the acreage, you have to buy it," says Shannon Nome, an energy analyst with J.P. Morgan.
Another attraction is that stock markets have placed a lower value on the gas reserves these companies have in the ground than on gas available through the futures market. This disconnect allows companies to buy natural-gas reserves and then turn around and hedge a portion of future production to lock in some returns.
This is what Chesapeake Energy Corp. did last month when it bought Columbia Natural Resources LLC for $2.2 billion, plus the assumption of $750 million of debt and other liabilities. Chesapeake acquired about 1.1 trillion cubic feet of proved reserves for less than $2.50 per million BTUs, then turned around and acquired hedges into 2008 for 99 billion cubic feet of future production at an average of $10.76 per million BTUs. That locked in about $1.1 billion in future revenue. Chesapeake is also mentioned as a potential target, sending its stock up 4.2% yesterday.
"There is a disconnect between equity-market valuations of [exploration and production] companies and commodity-market expectations," says Pavel Molchanov, a research associate with Raymond James & Associates. He believes this means there will be more consolidation in the industry.
Whether buying these companies is good idea remains to be seen. Investors yesterday sold off ConocoPhillips stock on worries about the timing of making such a large acquisition when natural-gas prices are so high.
"You have to have a bullish view of natural gas to do this deal," says Mr. Gerlach of the Gartmore Global Natural Resources Fund. ConocoPhillips stock ended down 2.9% yesterday.
Write to Russell Gold at russell.gold@wsj.com